In an effort to cut down on sugar I've replaced my yogurt and granola breakfast with egg "muffins." They're really more like a crustless quiche but they're made in a muffin tin, and make a really good brain-dead breakfast with plenty of protein. You can make them with whatever ingredients you've got handy, and I've tried a bunch of different combos, including whole eggs, but the recipe below is my favorite so far.
Egg White Breakfast Muffins
Makes 8 egg "muffins"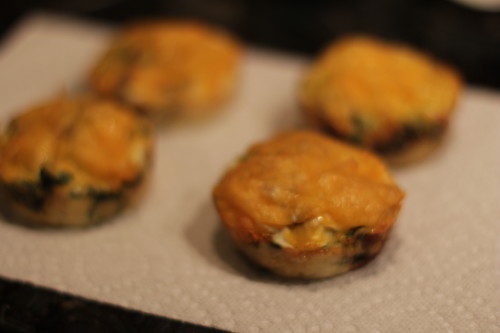 Ingredients
8 egg whites1
A handful of baby spinach, chopped
2 mushrooms, diced
1/2 cup reduced fat shredded cheddar cheese2
1/4 tsp salt or to taste
1/4 tsp pepper or to taste
Preheat oven to 350 degrees. Whisking with a fork, combine egg whites, spinach, and mushrooms. Season with salt and pepper. Divide egg mixture evenly into eight spaces of a muffin tin (if not using a nonstick tin, spray with oil or cooking spray first). Top each cup with cheddar cheese. Bake for 20 minutes or until just beginning to brown at the edges.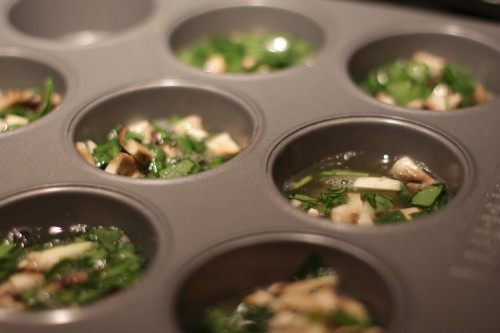 I find they come out best if I only fill the cups about half way. Beyond that they get very tall and puffy in the oven, and then collapse like a bounce house at the end of a carnival.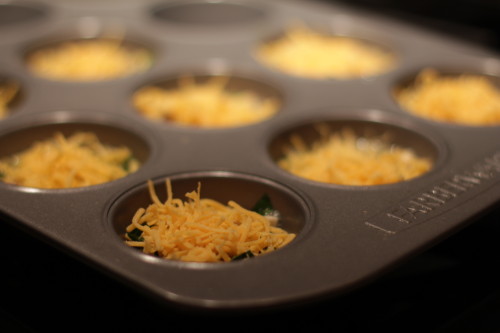 The muffins keep well in the fridge. In the morning just pop one in the microwave for a minute and you're good to go. You can also freeze them, just make sure you allow them to cool before freezing to minimize the formation of ice crystals.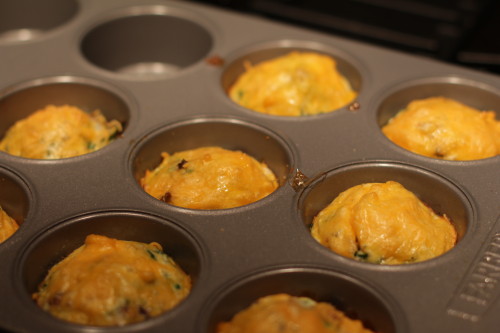 If you're using whole eggs you may get more like 10 or 12 muffins out of the recipe, but here's the nutrition breakdown using the above ingredients:
42 calories
1g carbohydrates
2g fat
6g protein
<1g sugar and fiber3
As a delightful surprise, these are toddler approved! I'm not sure how much longer we'll go before she notices the spinach and starts to pick it out, but for now it's a great way to sneak some veggies into my almost-two year old.
If you don't have another use for the yolks I really suggest eating them instead of wasting them, they're good for you. [↩]
Full fat cheese works too, of course [↩]
you get a little from the veggies but not much [↩]