I'm now about a month into the process of tidying everything. I've lost count of the number of car loads and trash bags full of stuff I've removed from my life. So far I only have 2 items I regret parting with, and neither of them are expensive or irreplaceable. So I'm doing good there. And as of this afternoon you can see the top of my desk!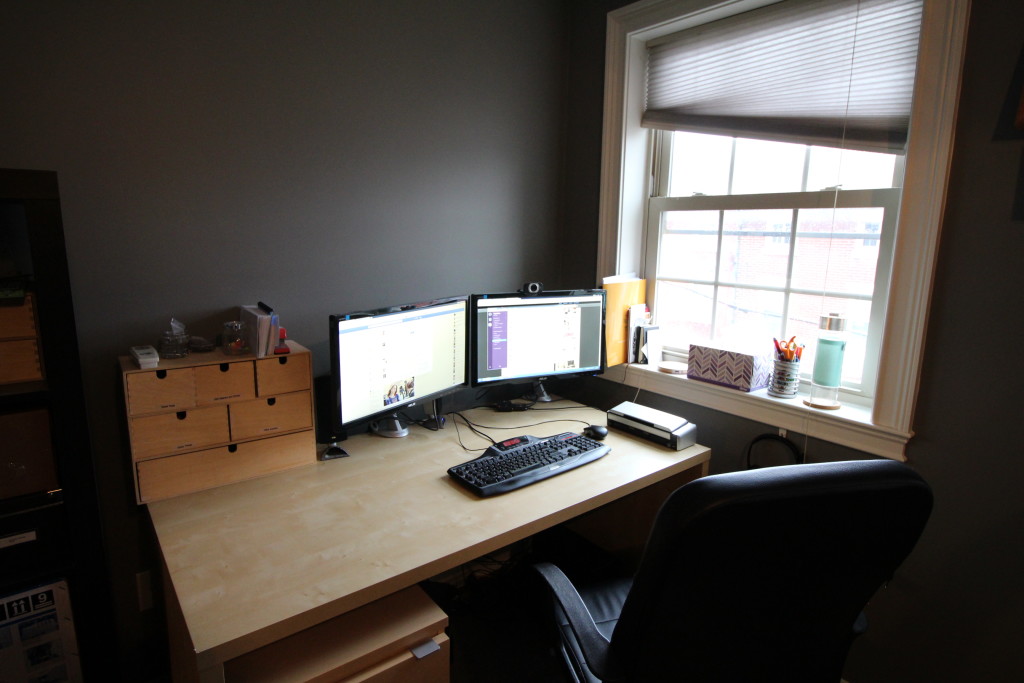 Not only that but my closet has WAY MORE space. I expect that over time I'll move a bunch of the stuff that's out in the office into the closet.
Before, there was so much stuff on the floor that the door could only open partially. There wasn't anywhere to store the step ladder so it just sort of hung out. Now everything is off the floor, the fabric has been moved into a new drawer set, and there's a spot for the ladder just to the left of the drawers. My fabric cutting board, which had previously laid around in my office making it look messy, now hangs on the wall next to the fabric.
There's still work to do in the closet, I have 3 more categories of craft stuff to go through, but it's a vast improvement from what it was.
My desk is now clear, there's no more piles of crap on top of my book shelf, I've moved my file cabinet near my desk so maybe I will actually file something someday, and the shelves themselves are slightly better organized. I actually took a lot OUT of the shelves, but then put things back in from other places. In the interest of full disclosure, that blue cart is still there you just can't see it in the 2nd shot.
The "before" photo is a little misleading, I took it right after I cleaned my office. Which I do maybe twice a year. Here's a more honest photo of what my office usually looked like: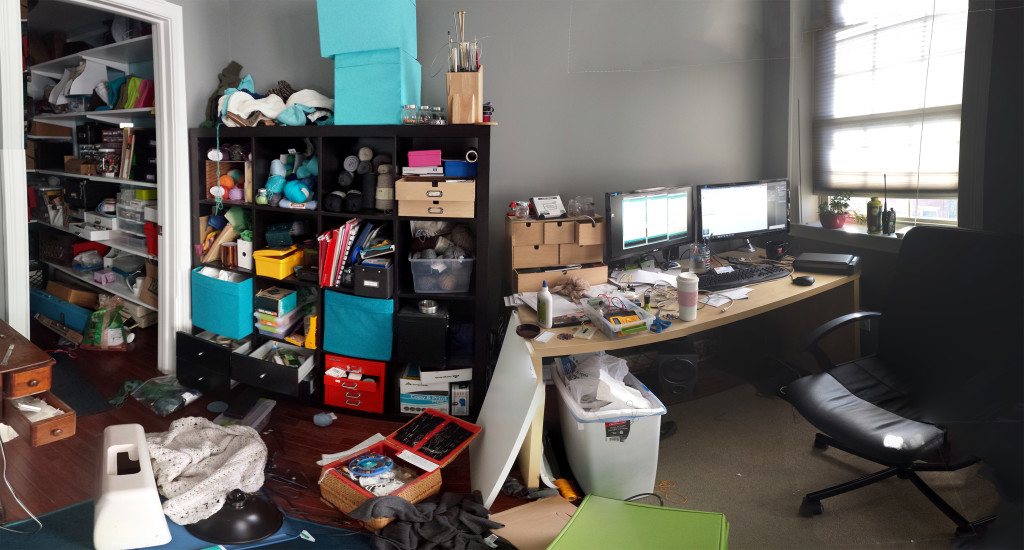 I've managed to create a little island of clean. The rest of the room is still in progress. I can't stress how exhausting it is to go through all this stuff, the full KonMari treatment is definitely not a weekend project. I reached a point where I need to focus on some other areas/categories, because I've got piles of stuff that don't belong in this room but there isn't room for them in the places they do belong. We have two big closets downstairs which hold stuff my husband and I will need to tackle together.
Here's what the rest of the room is looking like these days. Piles of to-be-sorted stuff in an otherwise bare room. That's because once Baby #2 is born the plan for this room is to move the guest bed in here. Evacuating that half of the room is a long term project of mine.
This slideshow requires JavaScript.