Are you interested in my quest for a less disastrous house? Check out my whole tidying archive of posts!
If you are a person who reads the internet, you have probably heard of Marie Kondo's book The Life-Changing Magic of Tidying Up. Perhaps you have even tried to read it. Most people who succeed in reading it join her KonMari tidying cult, but in all honesty it can be a challenge to get past the first few pages if you are turned off by the huge number of self-help cliches found in the beginning. I'm told that part of this is due to the book's translation, and perhaps also some bad advice from an editor. Or very good advice, given the book's position on the bestseller list. Suffice to say I found the beginning of the book a little grating but I'm glad I stuck with it.
The book contents can be divided into 3 categories: super useful advice about decluttering and organizing, somewhat repetitive stories about her childhood / clients, and advice that might be useful to some people but doesn't seem to apply to any of the American yuppies I know. One example of the third is her assertion that you should carry all your coins as "no one actually cashes in their change jar." Do they not have Coinstar in Japan? Because cashing out a change jar is an amazing treat whereas digging through my purse for a dime sucks.
Anyway, I'm reading the book and feeling inspired to clean (ok, I read the book because I was inspired to clean and felt overwhelmed by how much stuff I have). The book suggests starting with clothing because it's the easiest, and I agree. I did my sock drawer first: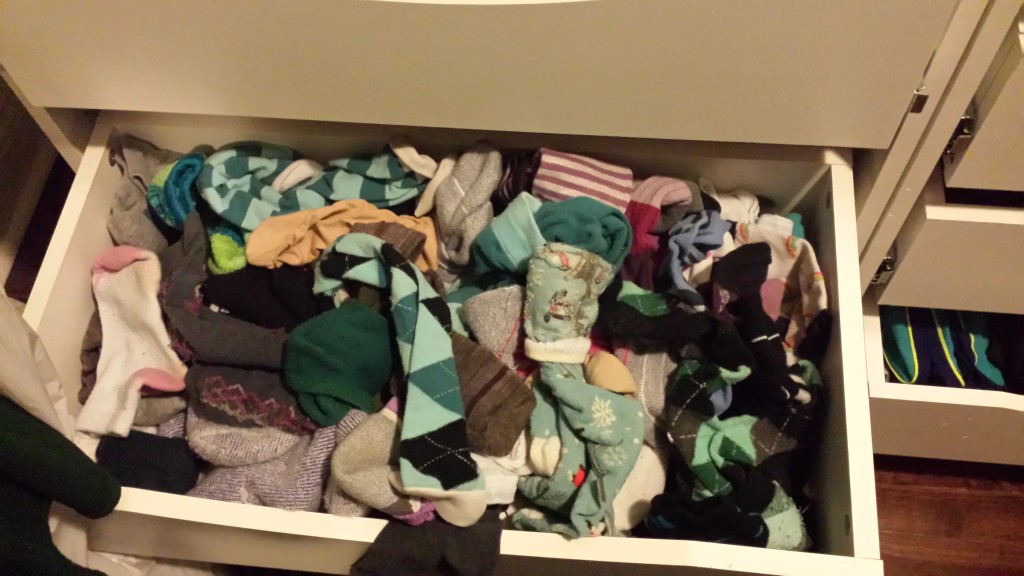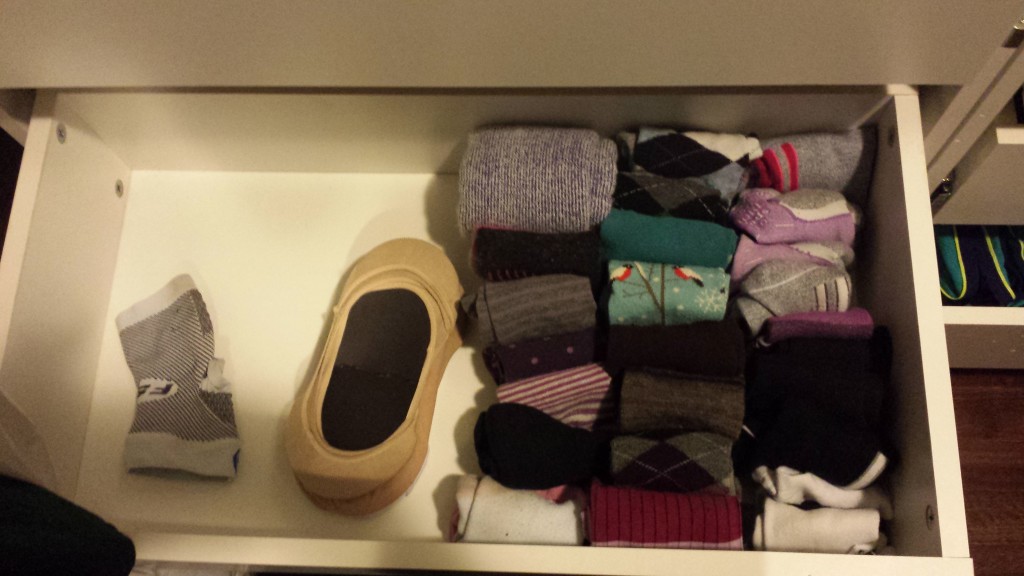 As you can see, I got rid of about half my socks. They were not in great shape. Many were threadbare at the heel or stretched out. Others were in OK shape but I had to ask myself "how many pairs of black athletic socks does one person need?" I decided the answer was not "10" and culled all but the heartiest. A couple pairs of socks were like-new but didn't really go with my wardrobe, or were nearly identical to other socks I never wear. I'm still trying to figure out if I should donate them somewhere or just pitch them. I mean, does anyone actually want used socks? Probably not.
At first I struggled a lot with wastefulness, a feeling that nagged me while reading the book as well. Kondo talks a lot about discarding things, and as someone who is opposed to waste this was hard to accept. I rolled it around in my head for a few days and realized first: 'discard' does not mean I have to throw it in the trash, there are still plenty of responsible ways to pass something on for reuse. Second: I was already being wasteful the second I purchased that 6 pack of athletic socks, knowing full well I still had some at home (they were on sale!). Holding onto something indefinitely when you've already replaced it isn't being responsible, it's hoarding. Then I had a moment of "well I wear these socks when I run out of ones I like, what will I do now when I run out?" Um, wash them? Stop playing King of the Mountain with the hamper?
One of the most often cited ideas from the book is to only keep items which "spark joy." I can immediately tell which critics haven't actually read the book, because they make snide remarks about how something mundane-but-necessary fails to spark joy. Except even items we don't actively like can spark joy. Maternity underwear does not spark joy directly, it's pretty dowdy, but not having a wedgie 100% of the time is its own indirect joy.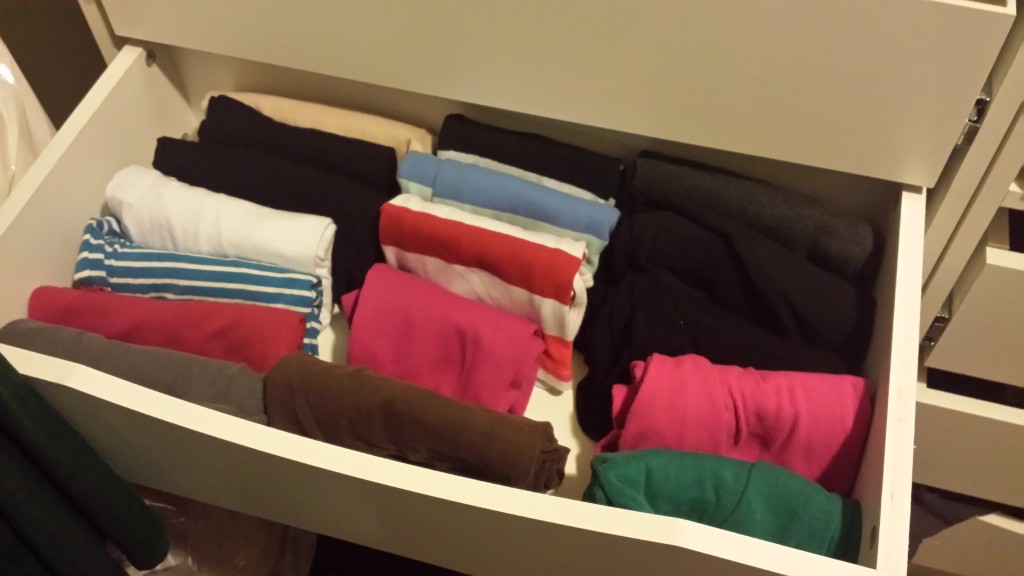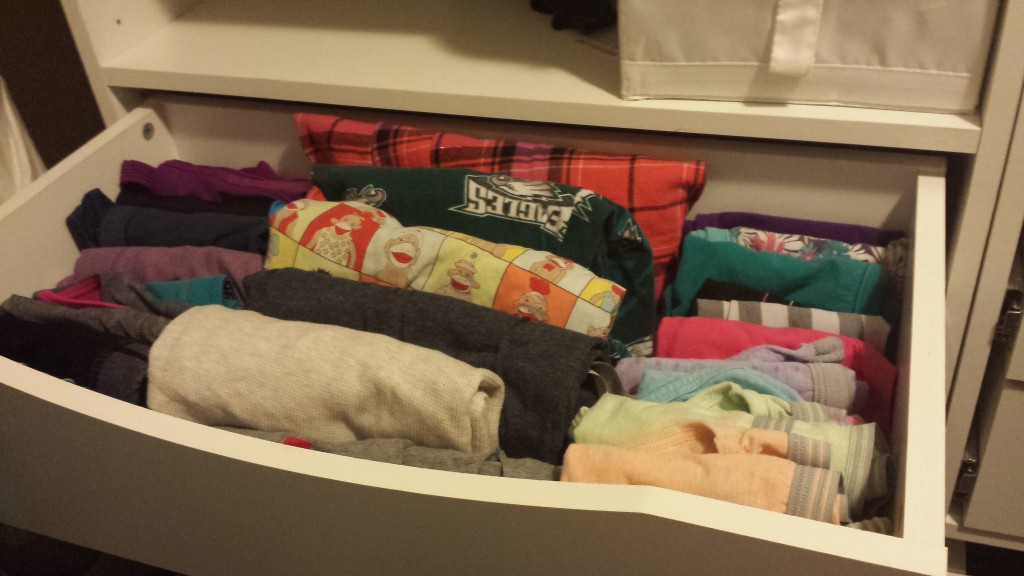 After socks I moved on to underwear and tank tops. Next is T-shirts. Nice tops, jeans, and dresses will have to wait until I'm done being pregnant and my body returns to normal. It's hard to consider purging items when you know your body is about to do some major shape shifting. Lucky for me there is really no shortage of other things I can tidy.
A lot of people who haven't read the book decry the idea of having to get rid of all the "nonessential" stuff in their lives. That's not what Kondo is suggesting at all. I have a huge yarn collection, and I assure you it brings me joy (though I still plan to go through each skein and get rid of any I know I'll never use). Ditto for my fabric collection. There's nothing wrong with having collections of things. The problem is having collections of things that aren't actually making you happy.
Kondo talks a lot about the emotional reasons we hold onto things. To some people it seems really cold hearted, getting rid of items that may have been a gift. But I think it's important to acknowledge the emotional toll of stuff we hang onto just because it was a gift. If anything, keeping something we don't really want just because we feel obligated to strains our relationship with that person. You shouldn't be an asshole about it, but ultimately there's a limit to how much stuff we can hang onto. Some of it has to go sometimes. It doesn't mean we love our friends less, or don't appreciate their gifts.
For the record, if I have given you a hand knit item, and it it no longer suits you, please do not feel obligated to hang onto it if it no longer brings you joy. The joy for me was in the knitting and the giving, and hopefully for you in knowing I liked you enough to make you something. Whether you choose to use it going forward is really up to you.
Slowly, painfully, I'm learning to let go of stuff I'm keeping because I "might" use it. I have never, ever remembered to take a travel pillow with me to the airport; I definitely don't need three. I am never actually going to read that book on Renaissance artwork, I don't actually like Renaissance artwork. I don't need to own any clothing that is too gross and old to wear outside the house. I need exactly one pair of painting pants and two painting shirts (I know from experience that after two days I will be sick of painting and go do something else). I will never actually turn those old T-shirts into a cool hipster crochet rug.
I am letting go of the ghosts of people I thought I wanted to be (but don't) in order to make room for the person I actually want to be (someone who can see the top of her desk on more than a semi-annual basis). I've joined the cult, and even if this experiment is a total bust and my sock drawer is back to being a warzone in a week at least I managed to get rid of some baggage in the process.