My closet is now officially tidied (or KonMari'd, if you want to turn the method into a verb)! It doesn't look drastically different, especially because the most dramatic change is in the drawers, but it  feels so much better in there. No more piles of t-shirts on the top shelf, no more collections of crap on the floor under the hanging clothes. No more pile of clothing I haven't put away! Everything is where it belongs! Of course I'll have to go through it again in 6 months once I'm back to my pre-pregnancy self and can wear normal clothes again, but even what I've done so far is a huge improvement.
Next up is the hobby category. I talked about strategies for tidying hobby supplies in my last post, and sat down to tackle a new one today. Except my office is a mess (which is what inspired this whole thing in the first place). I realized that there's a certain catch-22: you need to have a clear space to work in order to tidy effectively, but the reason I have no clear space is that I need to tidy! I spent about 20 minutes putting things away, throwing out trash, and doing the sort of clean-up I might do before company comes over. I didn't worry too much about exactly where stuff went, I just tried to lump like items together and get the floor to a place where I could vacuum.
This brought me to tidying step 0: a vaguely clean office.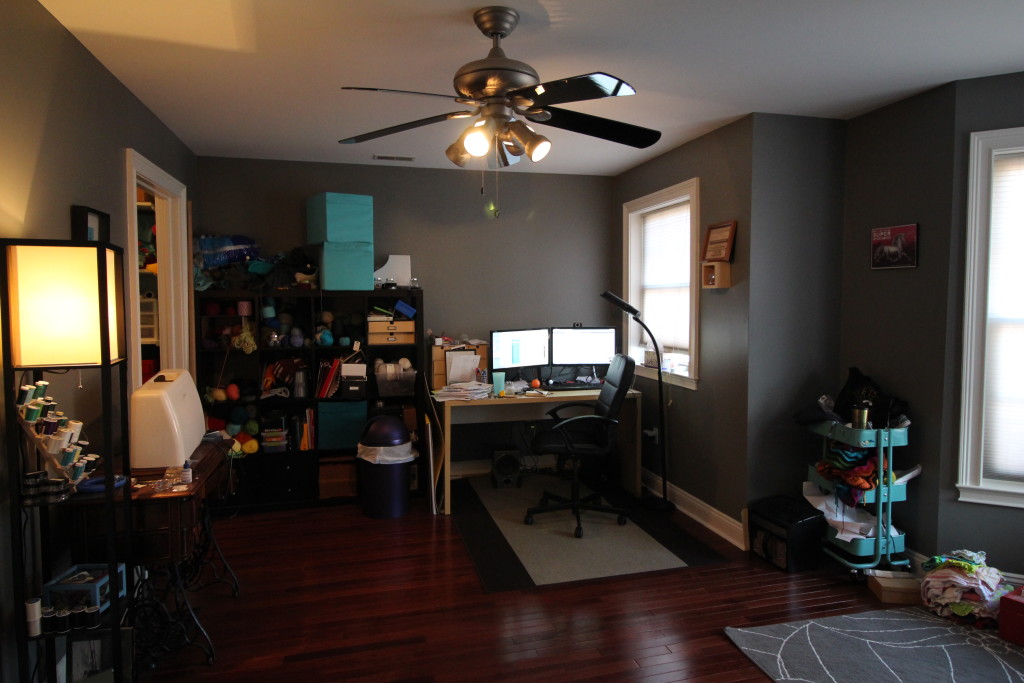 Then I tackled my electronics, which didn't have a ton of stuff in it but was still challenging. I relocated a lot of random cables to the basement (where we have storage bins with various computer parts) and got rid of some very old mostly broken hardware.
Next on the agenda was the linen closet. I hadn't intended to tidy it, but when I went to put fresh sheets on the guest bed and realized I had no idea where the queen sheets were. There are queens, doubles, twins, and Twin XL in there and I can't remember which is which.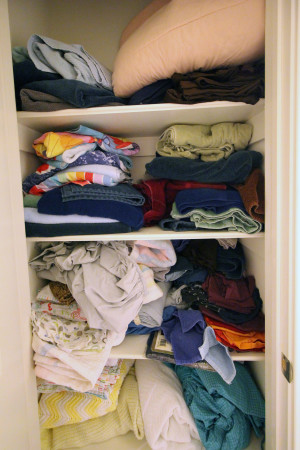 We store linens in 3 different closets, plus the "in use" linens which occupy the beds/bathrooms. I amassed all the sheets and blankets on the guest bed. Keep in mind this is just the "spares." The guest bed sheets/comforter were in the wash, and the other 3 beds in the house (ours, our daughter's, and the crib) all have sheets on them.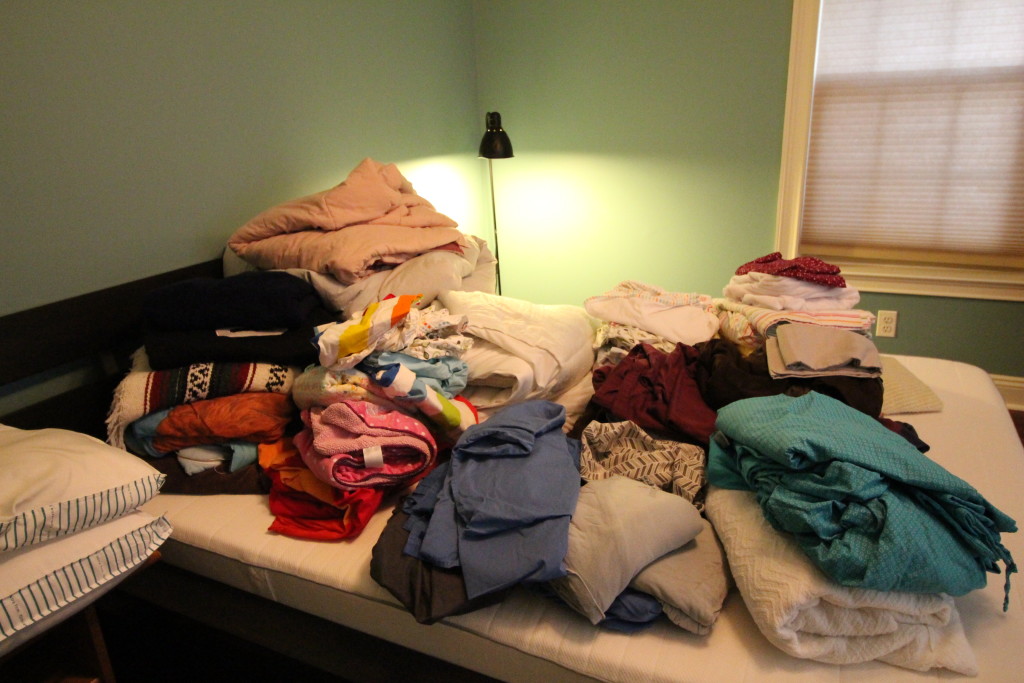 I pulled out anything that I felt was too gross for a guest to sleep on. I pulled out the Snuggie and some polar fleece throws (I hate polar fleece). Since some of these came with my husband when we moved in together I gave him right of first refusal for anything on the chopping block. He agreed with my assessments though.
Next I went through the towels. Not including the full sets hanging in the bathrooms we had 15 bath towels, 16 washcloths, 3 beach towels, 10 hand towels, and 5 bath mats. Once again I culled anything that wasn't in good enough shape to offer a guest. I set aside a couple towel/washcloth sets to take down the shore along with a surplus duvet.
I didn't quite hit my goal of fitting all the linens in one closet. We have a bunch of extra waterproof covers for furniture which are bulky but we'll definitely need them when the baby shows up. I put the crib sheets back in my daughter's closet, but everything else fit! I rolled the towels for easy grabbing, then folded the washcloths and stuck them on end in a shoe box to keep them from getting mixed up with the hand towels and beach towels.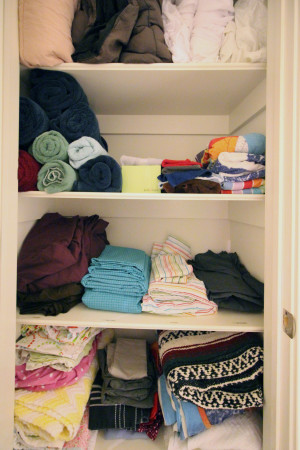 This whole process is so much work but I really think it's worth it. Just being able to easily grab a set of clean sheets is a huge improvement in my domestic life.