Seven weeks after my headfirst dive into cooking and I'm still at it. I use Evernote extensively to keep it all organized, and it has been a lifesaver. Here's how I stay organized through each step of the cooking process.
Storing and organizing my recipes
Every recipe I cook is stored in Evernote. I occasionally tag them with things like "quick" or write notes at the top, but for the most part it's just nice to have everything all in one place. I can also add pictures if the recipe doesn't provide one, which makes for a nice way to browse through recipes.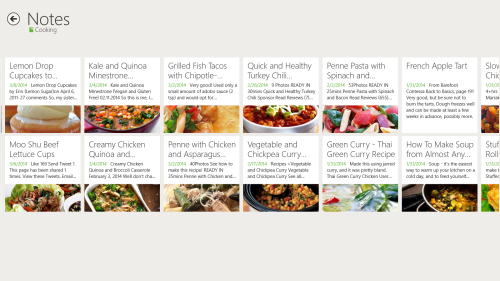 On the weekend I sit down and plan three meals for the week. In addition to planning nutritionally balanced meals, I'm often trying to use up some leftover ingredients from the week before. Being able to search my recipes quickly is great, I just search for "spinach" and everything using spinach pop up.
With the Evernote Web Clipper extension for Chrome I can save any recipe directly to Evernote. It saves both the text of the recipe and the URL, so I can always refer back to the original if I need to, but if it disappears or changes down the line I've still got my copy.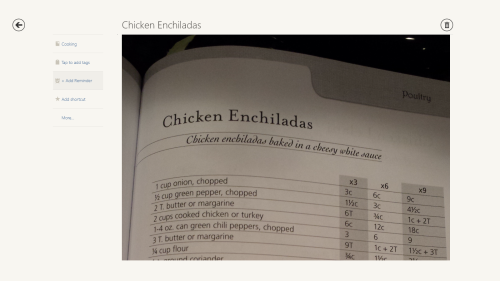 Cookbook recipes can be stored as an image, just snap a photo of the recipe and upload it to Evernote. The image is then processed and you can search by the words that appear in the image. I generally just get the recipe title and ingredients list, and then note the page number if it's not visible in the photo. Then I can find the recipe easily when it's time to cook.
Making a grocery list and shopping
Once I've decided what to cook for the week I sit down with the recipes and make a grocery list. Occasionally when I get to the store I hit a snag, like realizing there are multiple types of a certain ingredient. Evernote syncs my recipes to my phone, so I can pull up the recipe and figure out what I need. If I'm really in a bind and it's an internet recipe I can pull up the original page's comments and see if there are any suggestions for substitutions.
You can also save your grocery list in Evernote, but since my husband often does the grocery shopping and doesn't have a smart phone I still do mine on paper. I also find it really satisfying to cross things off by hand.
Cooking Day
Google Calendar is my favorite way of keeping track of what I plan to cook when. If something unexpected comes up I can just drag and drop that day's meal to tomorrow. It also provides a good reality check: if I have a day full of meetings I'm probably not going to have time to cook that Barefoot Contessa recipe.
I have a hybrid laptop/tablet so when it's time to cook I put it into "tablet mode" to display the recipe and get to work. I can add notes or make changes to the recipe as needed and they're automatically saved for next time. When recipes don't pass muster (I'm looking at you, cheddar cheese stuffed chicken breasts) I just delete them. Goodbye, bad recipe!