While I'm no longer cooking 4 new recipes a week, I'm still cooking a whole bunch. This Indian-style curry recipe is one of my favorites so far. Chopping all the ingredients is a little time consuming, but it's a great slow cooker meal and very worth it. It also happens to be vegan! You can find the original recipe here. I've listed the quantities of stuff I use here, which vary slightly from the original.
Ingredients:
Dash of olive oil
2 medium yellow onions
2 large carrots
1 tablespoon curry powder
1 teaspoon brown sugar
knuckle-sized chunk of fresh ginger, peeled and grated
2 teaspoons minced garlic1
1 serrano chile, seeded and minced
2 cans of chickpeas, drained
1 potato, cubed
1 bell pepper, diced
a big handful of green beans, cut into 1 inch lengths
1/2 teaspoon salt
1/4 teaspoon black pepper
1/8 teaspoon ground red pepper
1 can diced tomatoes ( 14.5 oz can)
1 can vegetable broth (14 oz)
3 big handfuls of baby spinach
1 can coconut milk
First, heat some olive oil in a pan. Cook the carrots and onions in the oil until the onions begin to transluce (5ish minutes)
Then add the sugar, garlic, curry powder, and serrano pepper. Mix everything well and cook until everything has a nice brown to it (another minute or two). Remove from heat.
Put the green beans, potato, chickpeas, diced tomatoes, vegetable broth, salt, pepper (both kinds) and bell pepper into your crock pot. Add the carrot-and onion mixture and stir everything up really well.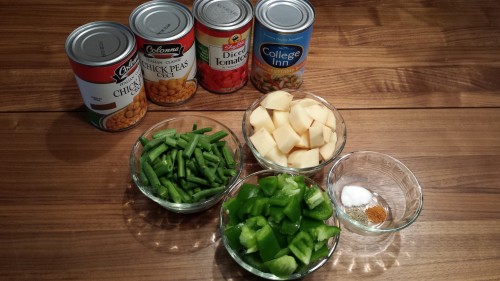 Cook everything on high for 5 hours. When you're ready to serve, add the spinach and coconut milk and mix well. You can serve this with rice, but since the potatoes have plenty of starchy carbs I usually skip the rice entirely.
I use the stuff in a jar because I am lazy [↩]