Last month I decided it was finally time to learn to use the serger I've been borrowing from a friend. Toddler shirts are a great starting point because they're simple, cheap, and still have a few challenging elements.
I made all of these these using the Titchy Threads Rowan Tee pattern, which can be purchased online and printed on a home printer. The pattern includes a bunch of different sleeve and neckline options that you can mix and match.
The first one I did, below, I used my normal sewing machine and a zigzag stitch. It came out great.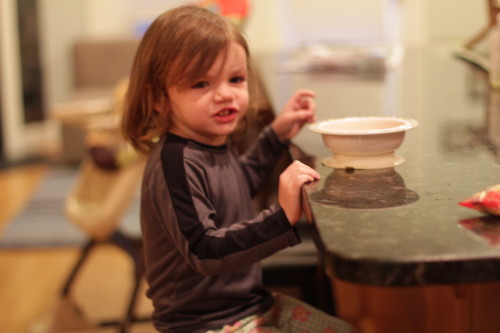 Next was a short sleeved shirt with stripes. I tried to match up the stripes at the shoulder but completely misunderstood how the sleeves attached. So they don't line up after all. Oh well.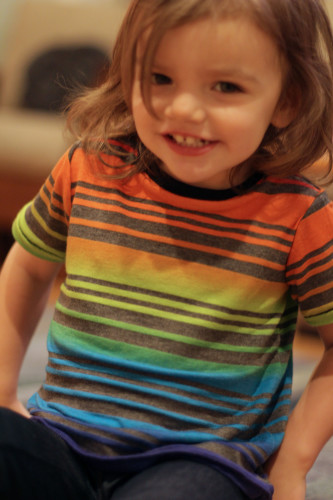 The third one I made from a thrifted shirt. While serging the sleeve to the body, I managed to bunch up the fabric and some of the body fabric got caught in the knife. It's not super noticeable, but still frustrating.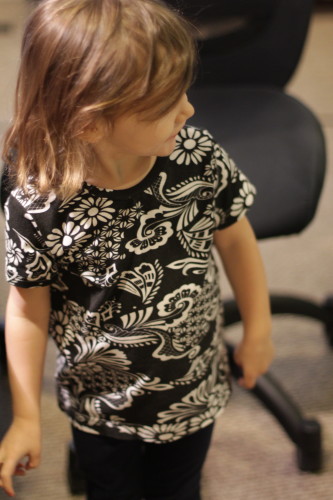 My final shirt was a hooded long sleeve with a kangaroo pouch. The shirt itself went great, but I had a lot of trouble sewing the curves of the hood. It shifted around and came out off center. Next time I'll baste it in place first.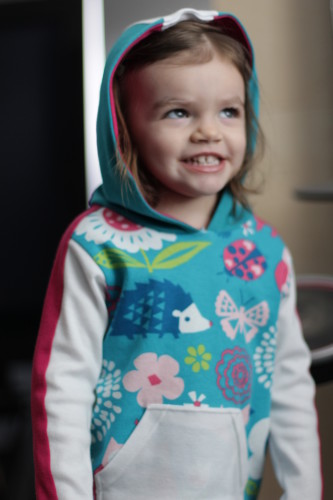 I'm really glad I took the time to get used to the serger. The knife was super intimidating at first, and I still leave it down sometimes, but I love not having to trim my seams afterwards. I even started using the serger to finish the seam allowance of stuff I do on my sewing machine. The toddler loves  her new shirts so I'm sure I'll be making a bunch more soon.