When I was in Boston recently my vegetarian friend dragged me to Life Alive, a place so crunchy I thought my husband would run out screaming. I ordered what was basically a giant plate of steamed veggies over quinoa, served with THE MOST AMAZING SAUCE EVER. Oh my god. So delicious. I will eat every vegetable if you just GIVE ME MORE OF THE SAUCE.
Ahem. So since I live nowhere near Boston (also I think Life Alive is maybe in Cambridge?) I was incredibly glad to find this recipe for a tastealike sauce. Armed with a big batch of the sauce (I made 4x the recipe and stored it for later), a steamer basket, and a rice cooker I now have a super healthy lunch option.
The best thing about this recipe is that it makes a really good take-to-work option. Just make the quinoa & sauce beforehand and keep them in the fridge. Then grab a steam-in-bag of your favorite mixed veggies from the freezer case. Put some of the sauce in one of those tiny 1oz tupperwares and you've got yourself a microwave meal fit for a king.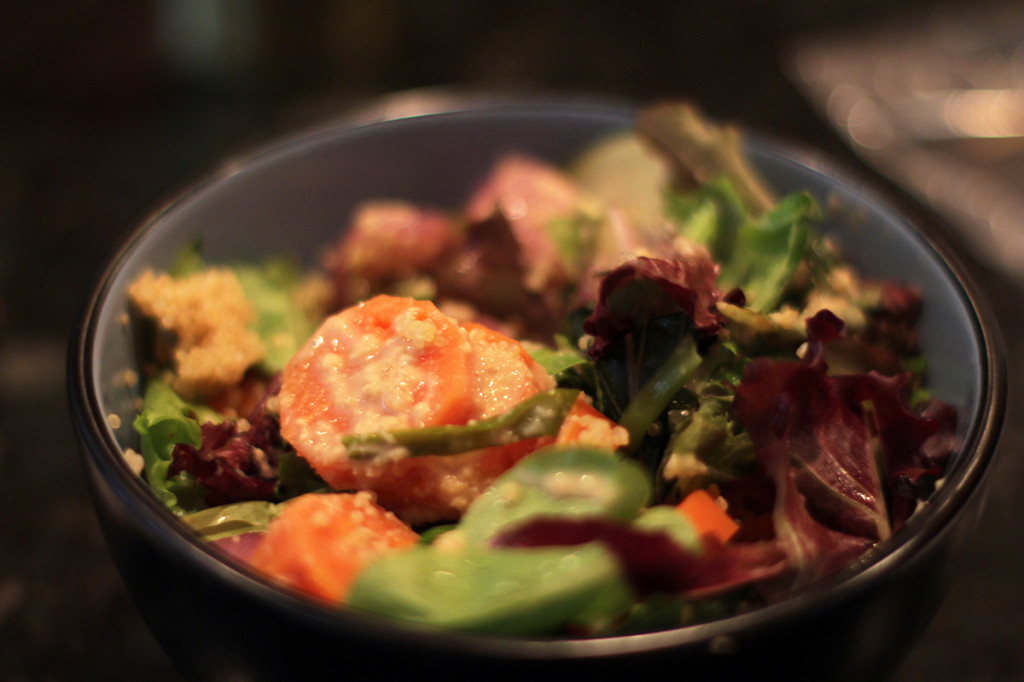 I used this to put a dent in my CSA veggies, and it was both delicious and filling. You can use whatever veggies you have on hand in place of what I used. I like to throw in a handful of raw mixed greens at the end for crunch.
Steamed Veggies with Quinoa and Ginger Sauce
For the ginger sauce:
1 thumb sized peice of peeled 

ginger

, cut into chunks

2 cloves minced garlic. Confession: I use the jarred stuff.
2 tsp soy sauce
2 tbsp lemon juice (half a lemon's worth)
2 tbsp tahini
1 tbsp olive oil
2 tbsp water
For the rest of it:
1/4 cup uncooked quinoa
1 carrot, cut into 1/4″ slices
5 green onions, cut into 1″ pieces
4 turnips, cut into quarters
2-3 leaves mustard greens, chopped
a handful of salad greens
Ginger Sauce
As written this makes 3-4 servings. I recommend making a big batch of this ahead of time and storing it in the fridge. It should be fine for at least a week. You may need to add a little water and shake it up when it's time to use it.
Blend ginger and garlic in a small food processor. Add soy sauce, lemon juice, tahihi, olive oil, and water. Store in an airtight container or bottle.
Quinoa and Veggies
I also recommend making the quiona ahead of time. I like to make a cup (uncooked) at a time which is enough for four lunches and store it in the fridge. I nuke the quinoa while the veggies are steaming.
Cook the quinoa according to the package directions, or in a rice cooker at a 1:1 quinoa to water ratio.
In a pot with a steamer basket, boil water. Add carrots and radishes to steamer basket. Let steam for 5 minutes, then add onions and mustard greens. Steam 4 more minutes or until carrots are nice and soft.
Mix together steamed veggies, quinoa, and fresh salad greens in a bowl. Add 2-3 spoonfuls of ginger sauce (a little goes a long way!) and mix thoroughly.