It's time for round 2 of CSA WTF! Here's the first recipe. This week's CSA brought us:
collared greens
mustard greens
bok choy
radishes
salad mix
a head of lettuce
fresh oregano
salvia flowers
I'm not really sure what to call this dish. It's based off the filling from a stuffed peppers recipe I like, but only very  loosely. Basically you make some rice, brown some meat, cook some veggies in oil / seasoning, then mix it all together with a soft cheese. It's a good balance of healthy and tasty. You can add in any other vegetables you'd like to use up, and it still comes out delicious.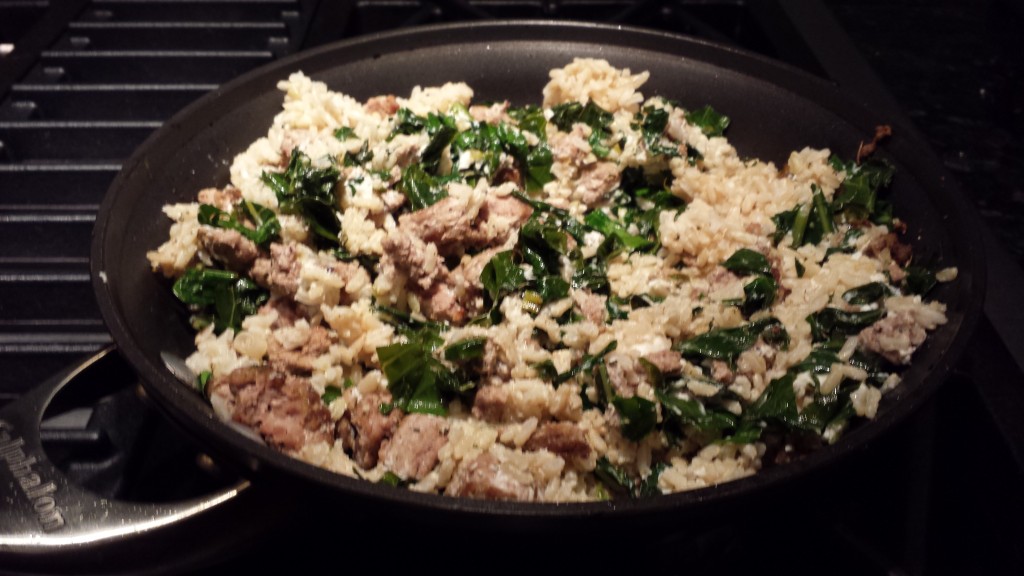 I made it up as I went along, so measurements are approximate. Items in italics came from my CSA this week.
3/4 cup brown rice
1/2 lb lean ground turkey
4 tbsp olive oil, divided
1/4 C green onions
1 tsp dried basil
1 tsp Italian seasoning
1 lime (optional)
1 bunch collared greens, chopped with stems removed
1/2 tsp salt
1/2 tsp pepper
8 oz goat or feta cheese
Cook rice according to package directions, or in a rice cooker.
In a small pan, heat 2 tbsp olive oil and brown the turkey (about 8 minutes).
While turkey is cooking, in a second pan heat remaining 2 tbsp oil. Add green onions, basil, and Italian seasoning. Cook for 1 minute, stirring frequently. Add collard greens and any other vegetables you fancy. Squeeze lime juice over greens (or don't). Add salt and pepper. Cook on medium heat for 10 minutes or until greens are soft. Add turkey to veggies and mix together.
Remove the turkey mixture from heat and mix in cheese. Add rice and serve immediately.
This made enough for two people, plus a little leftover for lunch. We are very hungry people, so it could probably serve 4 normal people.
As a bonus I made a little arrangement of flowers with the salvia and a zinnia from my garden. Also pictured is a tiny succulent we got as a wedding favor.