Inspired by my friends' work with the Brooklyn Ballet I decided to make some blinky pants for my student performance with the Philadelphia School of Circus Arts. The idea was to create pants that "twinkled" in time with movement.
Costumes for aerial silks have some very specific requirements. Outfits must be skin tight as any loose fabric can get easily caught. They need to be made of fairly strong fabric to withstand the silks (which are really nylon) rubbing against them. And of course I need a full range of movement, nothing stiff or restricting.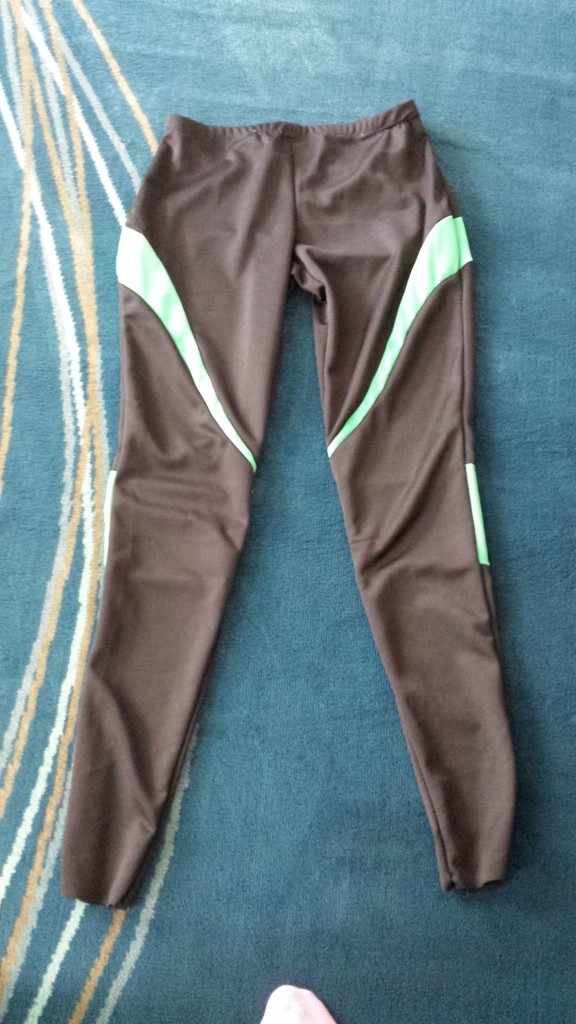 My first attempt was to hand-sew conductive thread into a pair of store bought running tights. This failed for three reasons:
The conductive thread, sewing with a running stitch, kept shorting out when I sweat
Having an electrical short across your leg means you're being mildly electrocuted
Because the thread doesn't stretch at all three of my lines snapped the first time I tried to climb and invert
The next idea was to machine stitch the conductive thread in a zig-zag. Since I only have a standard free-arm sewing machine this meant I would have to make my own pants from scratch.
After 2 different patterns and 5 different pairs of test tights I had something I liked the fabric and fit of. I went with Fehr Trade's PB Jam Leggings and JoAnn Fabrics' Sew Classic Spandex. The PB Jam pattern runs a little small compared to what I'm used to, I'm a US size 6 and I found the XS size was the best fit for me.
The best way I found to deal with the conductive thread was to couch it to the pants fabric using a zigzag stitch. I sewed the side seams of each pant leg and then drew on all the traces. One by one I very tediously sewed the conductive thread onto the pants, leaving a long tail at each end for hand sewing the electrical components in place.
The circuit itself is very basic. There is a PWM twinkle sequence which starts off a new twinkle every half-second. For the sake of simplicity I only wired up one axis of the accelerometer, and tried to trigger a twinkle every time it detected movement. Unfortunately I never really got it working right, it was always too sensitive or not sensitive enough. I ended up pulling it out of the design. One less thing to deal with.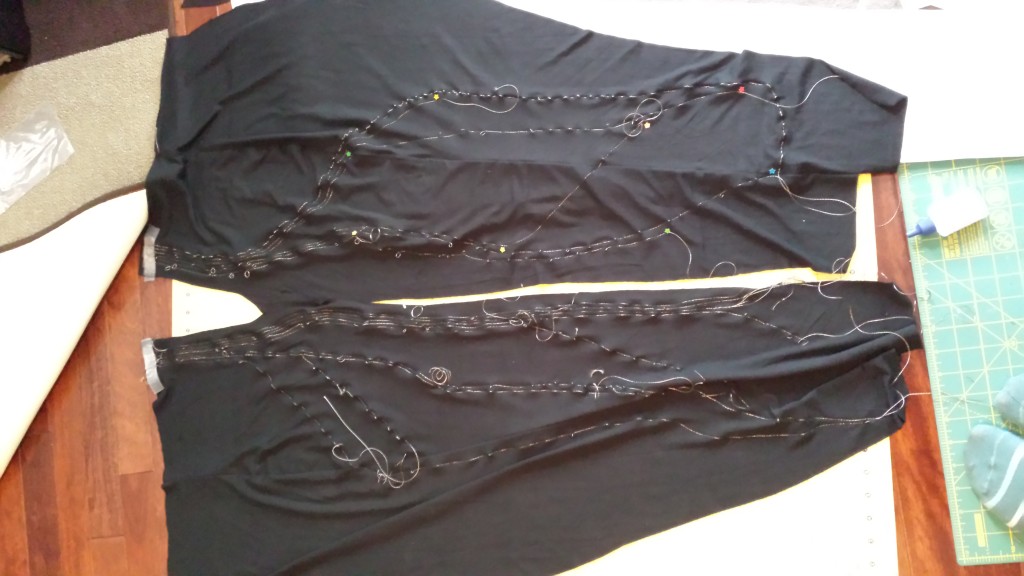 There were a few spots where it was impossible not to cross wires. Since conductive thread isn't insulated I had to use a small scrap of fabric to make a little bridge for the wire to safely cross over.
Once I had the leads roughed in I stitched the front, back, and leg inseams. I confess I didn't hem the bottoms, but I should have. From there I began the joyously tedious task of sewing in the LEDs and Lilypad. Each connection was secured with a lot of Fray-Check.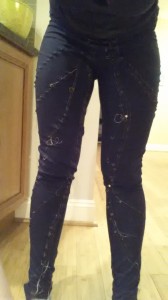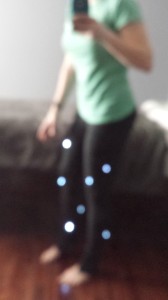 The LilyPad Arduino is sewn to the inside of the waistline, front and center, along with the power board. This was a poor choice of placement, because I can't actually reach it with a leotard on over it. Turning on my pants was not a graceful endeavor. The whole thing is powered by a tiny 300 mAh battery which I just tucked into my underwear.
The first time I tried on the pants it was obvious they were extremely prone to shorting out. I took fabric paint to the most obvious offenders, scotch taped down a few more spots, but ultimately had to accept that without completely insulating the wires it was just going to be part of the game. Future versions of these tights will use flexible insulated wire rather than conductive thread. Either that or casing the conductive thread inside some bias tape piping.
Because of the hard life these pants would lead I needed to wear a pair of footless tights on top of them. This protected them (sort of) against abrasion from the silks.
Here's a video of the pants with some maroon tights worn over them.
Despite the tendency to short out, they held up pretty well in performance. Not perfect, but enough that people could get the idea.
Below is a video of my act, the music is a mashup by PomDeter.
Overall I'm pretty happy with how they turned out, but looking forward to improving upon the design in the next version.