Last week we found out that the drain line for the sink would need to be moved down 3 inches in order to make room for the new, deeper undermount sink. This was a pretty big bummer because in order to to do it the wall would have to be opened up. The wall I just paid someone to patch and paint. Let this be a lesson to you all: do not touch any drywall until all your utilities are EXACTLY where they need to go.
In the end though it turned out to be a good thing. The old drain line was not run correctly (I am jack's lack of surprise). It had an upward bow in the middle of it, and water does not like to flow uphill. The new line has the appropriate downward slope and some nice metal plates on the studs to keep you from accidentally cutting into them. We'll put some new insulation in the wall before fixing the drywall, the old stuff is a little sad looking and my dad has half a roll leftover from something else.
We also got the upper cabinets leveled and secured. I didn't take a photo because it looks exactly the same as it did last week, the only difference is that the cabinets are all attached to each other now. For geometry reasons I don't entirely understand we had a hell of a time getting the cabinet over the stove to line up right. It's still not completely perfect but we got it close enough that I'm just gonna tell you not to look that hard at that particular bit of cabinet.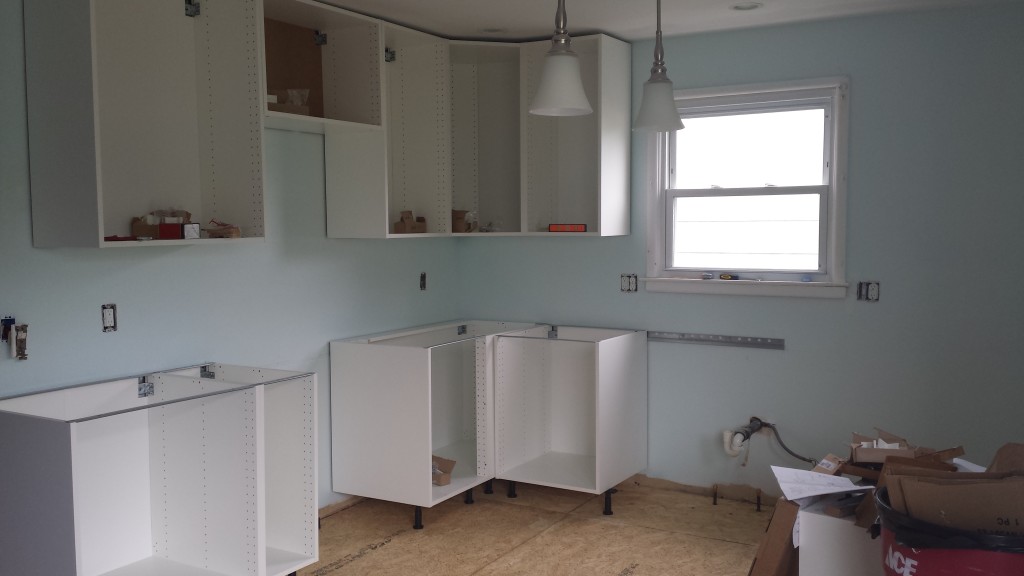 The new AC system is working great, both upstairs and downstairs were comfortable despite it being 80 and sunny out. The cooling system will get a lot of help once we're done with all the painting and can put some real window coverings up.
Next time we're down there a trip to the recycling center is NON-OPTIONAL. We tried to go today but only remembered after they were closed. We have a mountain of cardboard in the living room that is starting to take over.
I finally feel like most of the hard stuff is out of the way. We're still waiting for the HVAC company to install the gas lines (the gas company says the meter is all set). There's also some more stuff under the house I'd like to have looked at (ughhhhhhhhh) but none of it is super pressing. I don't think we'll have counters in time for the 4th of July weekend, but we'll at least have a couple of bedrooms people can sleep in!