One of the things you can do to class up an Ikea kitchen is to spring for non-Ikea doors. There are a couple companies that do this, most notably SemiHandmade and Scherrs. I've had my eye on some beadboard panel doors:
As far as default IKEA options go the only one I'm even vaguely into are the white BOBDYN doors.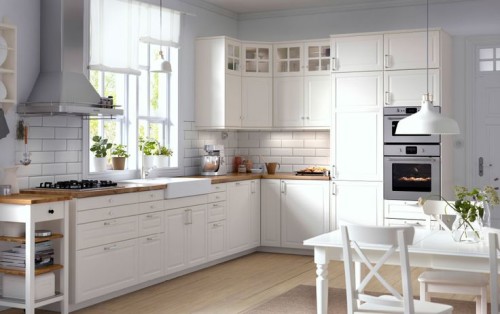 I don't really have anything against the IKEA doors, except maybe the shade of "off-white" is a little too far "off" for my tastes. But really I'm splitting hairs. I just love the look of the beadboard doors.
Unfortunately the quote for my beloved custom doors came in at literally twice the price of the IKEA doors. Ouch. I understand why: it's an apples to oranges comparison. BOBDYN is made of MDF (aka particleboard) with a white veneer. Scherrs doors are solid wood. Oh, yeah, that "twice as much" quote doesn't include painting, I'd have to do that myself (or pay extra). It's a much smaller jump from Ikea's solid wood doors to Scherrs. But the price gap between MDF and solid wood is significant. If we go with IKEA we're looking at $1000 worth of doors. Even with the money we're saving by DIYing a lot of stuff I'm just not sure I can justify shelling out an extra grand on doors.
It's not all lost yet; the Sherrs folks are looking to see if we can rework the quote to be a little more budget friendly by swapping out a few things, but at this point I'm not optimistic. At the end of the day I have to think about other things that money could go towards (like a nice stove).
Overall I've been dealing with a lot of sticker shock over just how much all this stuff costs. I've never redone a kitchen before – both the condo and our current place had nice kitchens when we moved in. This stuff is nuts. Right now we're looking at spending almost $14k on a 10′ x 10′ kitchen, using mid-grade stuff (except those countertops; I will die for my quartz countertops) and DIYing all we can.
So yeah kitchens are insane.
Update 3/27: it turns out I can't read. The new quote came in much lower, and then I realized I'd misread the original quote. I did not notice the 25% discount applied, which cut the price of the doors by $500. So the solid-wood doors are still 50% more than the ikea MDF but… maybe it's worth it?