We spent the weekend working on the house again, but it didn't feel nearly as satisfying as last week's kitchen demo.
The big adventure for the weekend was taking a load of debris to the dump. The local transfer center and garbage collectors won't take bulky trash like ours, so we drove it to the big dump in town. My dad brought down his trailer (hitched to a Volkswagen Passat) and we completely filled it. When you get to the dump they weigh your car and give you a slip of paper. When you leave they weigh you again and charge you based on how much you dropped off. We had over 600 pounds of debris from the kitchen, and it cost about $30. It was a surprisingly clean dump and didn't smell too horrible. For a dump.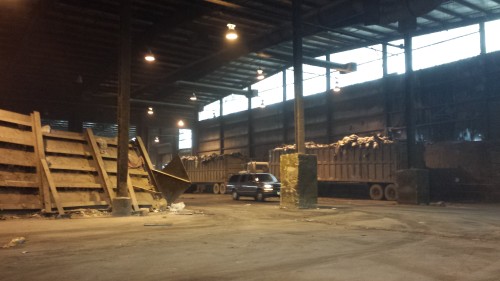 After that we went to 84 Lumber to get luan for the floor. We're nowhere near ready for it yet, but we had the trailer so I figured we'd make use of it.
The final round of flooring removal in the laundry room was grueling. Thanks to water damage the staples are all rusted and were a huge pain to get up. It took easily 3x longer than the stuff in the kitchen. But it's all gone except for a few small squares trapped under the hot water heater. Unfortunately the plywood subfloor under the hot water heater is in really rough shape. You can see how the weight of the heater is causing it to compress because it's rotted. It actually looks better in this picture than it does in real life.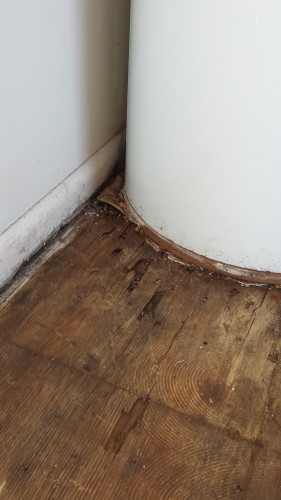 The short wall next to where the fridge used to be came down this weekend too.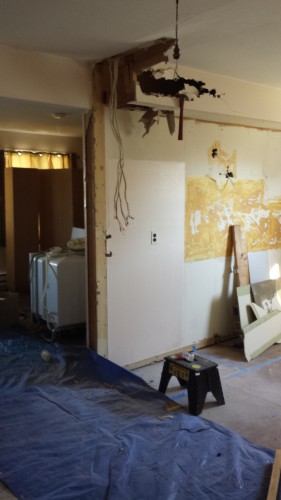 The other task for the weekend was priming the walls upstairs. We got about 1/3rd of the way done with the walls. The trim is kind of a mess and I'm deciding if I care enough to scrape/sand it or replace it (it's cheap stuff, less than a dollar per foot). No one will notice either way, but I will. Gross gloppy trim drives me nuts. Because that's the kind of neurotic I am.