A few years ago I was given a Toyota K747 knitting machine, a gorgeous blue knitting machine that features a punchcard patterning system. It is by all counts a fascinating machine, and I was excited to receive a lace carriage for it today.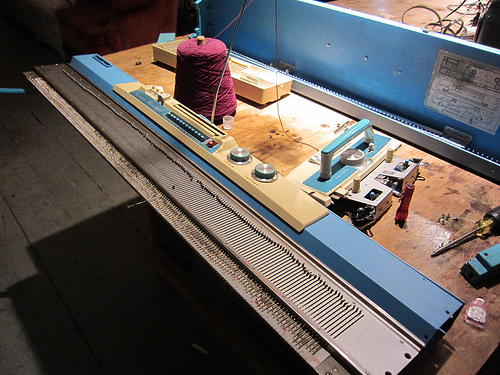 It's been a while since I've devoted time to the knitting machine – they're a bear to set up and take down so without somewhere to leave it set up all the time it can be daunting to use.
I noticed that one of the screws on the side wasn't biting into anything, and decided to take the machine apart to figure out what was missing. I took out 6 screws on each end, and pulled off the end caps.
With the caps off I could stare into the dark abyss of needles and gears. I discovered it's really challenging to take photos down a long, dark tube when using a point and shoot camera, so forgive the image quality of the following photos.
There are two "compartments" inside the machine, the front area which is all metal and has slots at the top for the needle tabs (called the needle butt) to stick out of, and the back which is mostly plastic where the needle butts rest. This is also where the patterning shafts (for lack of a better term) are located.
Here's the front compartment, the front of the machine is to the left. If you have trouble seeing the needle tabs, click the image for an annotated version.
Here's the back. You can see there's some greasy dusty areas. I'm not sure how to get in there to clean it. The needle shanks are pointing down to the "shafts", which if you look closely you can see there are 12. The Toyota K747's repeat is 12 stitches wide.
The missing part in question is a small rectangular nut which slides into the end cap. I'm really hoping this is something I can source rather than having to mill/tap one myself. Any suggestions for shortcuts are appreciated.
Aside from the missing nut, the machine is in great shape, and the nut isn't super crucial to the machine's operation. My next step is to find a scale version of one of the punch cards so I can cut some out on the laser cutter. I found a few places that claim to sell punch cards for it but none of them had them in stock.