Between being super pregnant and … being super pregnant… I haven't had much time to blog what's going on with the house. Mostly I wander around in an 8-months-pregnant zombie state due to lack of sleep. But there are things happening!
You may remember that our waste stack started leaking. Due to a number of factors, the biggest of which being that the bathroom is completely ridiculous and was done incorrectly, the only sensible solution is to strip it down to the studs/joists and remodel it completely. This is not a surprise, but it wasn't something I was planning on doing this year. Or really any time in the near future. But not having a working bathroom upstairs blows, so we found a contractor who seems good and thinks he can have it done by the end of the calendar year (ha).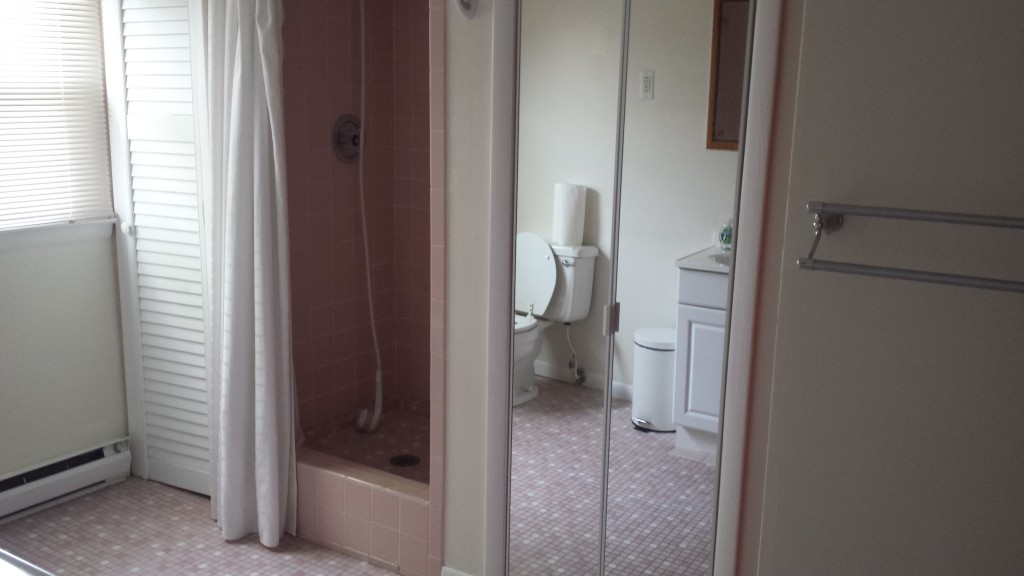 Aside from the leaking waste stack our bathroom has a number of exciting "features" including:
A shower pan that is 8″ off the ground
A closet with a non-gfci outlet
Another closet that is totally stupid
A floor that slopes towards the shower and flexes as you walk on it
Water damage in the closet due to the fact that the shower walls are drywall instead of cement board
An interior wall that is a foot thick for no apparent reason
No bathroom fan
This week is the demolition and investigation phase, where we hope to find answers to questions like "why is the shower not on the ground?" and "how many new joists will have to be installed if we want the floor to stop jiggling?"
This time around we're bringing in a contractor. I'm 8 months pregnant and sick of home improvement. The contractor is doing all of this, I'm really too pregnant to even go down there much after this week (the thought of sitting in traffic on the expressway while in labor is not appealing).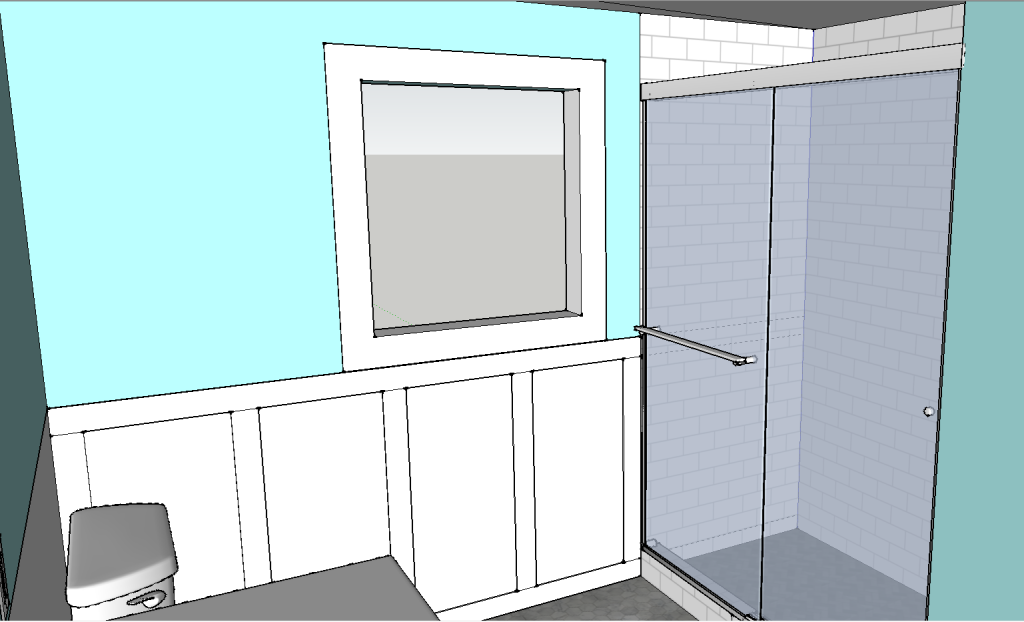 The basic idea is to remove the closet to the left of the shower in order to make it a more reasonable size (the current one is less than 3′ x 3′). Our contractor convinced us that in the long run we'd be happier with a swinging door rather than a sliding one, and he's going to build a half height wall on the left side which he'll put a little accessory nook in.
The rest of the bathroom layout will stay the same, but the mirror door closet will be replaced with something like this: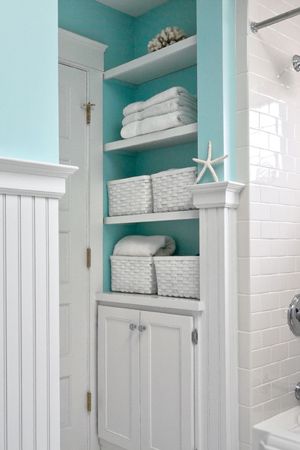 I'm not usually a fan of open shelves but I think they make sense in a guest bathroom. Folks can easily see where towels and stuff live without having to rummage through my closets. The cabinet doors will be made to match the vanity, which is this 4′ long monster: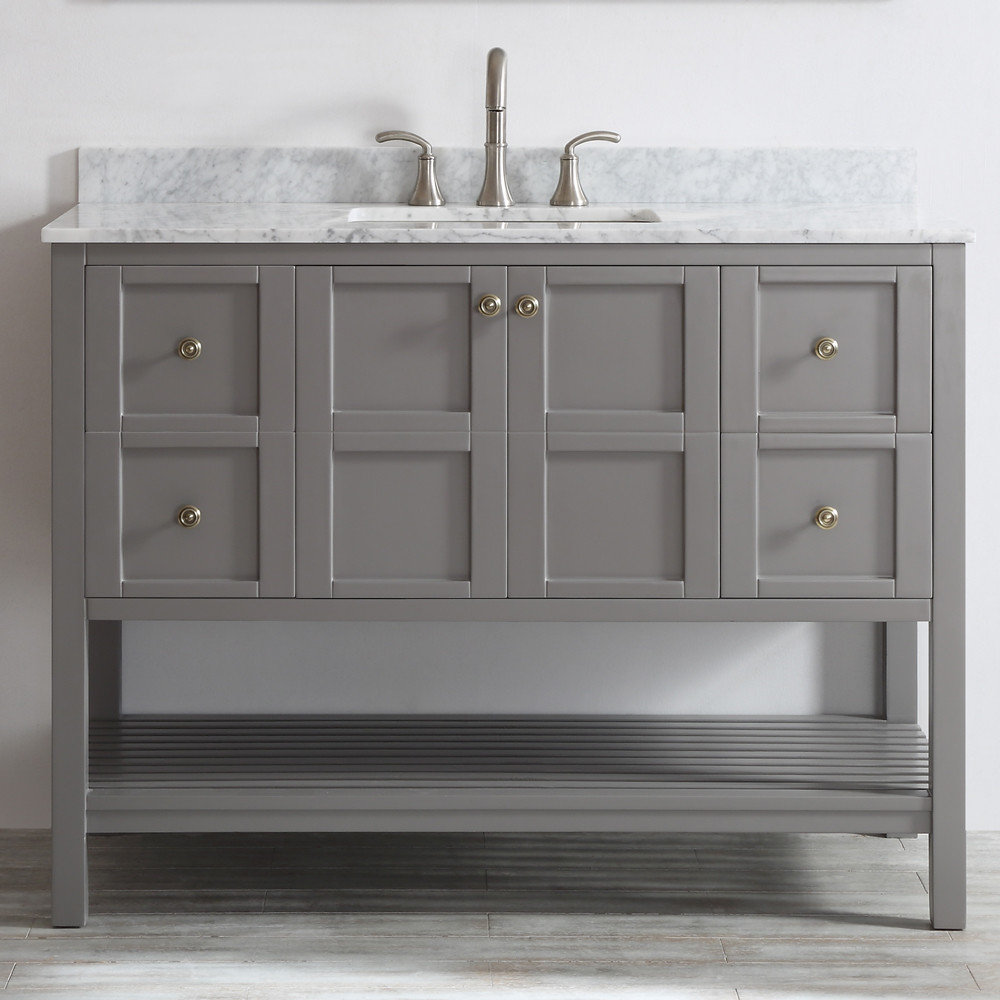 I still need to figure out what we're doing for vanity lighting. The ceilings are only 7′ so there's not really room for a light bar above the mirror. I'm trying to find some wall sconces I like to put on either side of the mirror but not finding any I'm in love with.
Fingers crossed that we don't find anything horrible lurking in the walls/floors. At least not anything worse than what we already know about. If we're very lucky the bathroom will be done before the baby shows up, but since this is not my first home improvement rodeo I'm expecting delays. I'll be happy if it's done by the end of January.