I peek at the Craigslist listings for knitting machines from time to time, but don't usually see much that strikes my fancy. Most of what's available consists of overpriced Ultimate Sweater Machines (which are junk at any price). For buying and selling machines, the Ravelry sales group is much better.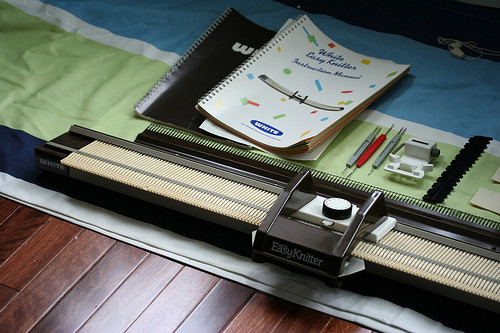 Last week I came across a White Easy Knitter for $25. The White Easy Knitter is made by the same company that made my beloved 1602, and is the same pitch (5mm). The Easy Knitter is a low-end hobby machine, and considerably simpler than the 1602, but the parts and accessories are interchangable. For $25 I wasn't expecting it to be in great shape, but since replacement needles are about $1 each on ebay I figured it would be a good source for spare needles.
You may remember that my 1602 did not come with a full bed cast-on-comb, and I've attempted to make my own. My homemade comb works OK, but not great, and I've been keeping my eye out for an affordable replacement without much luck. I have yet to see one for less than $100 once shipping is factored in.
I'm happy to say that the $25 Easy Knitter came with both a full bed of 160 needles (all of which look to be in good shape) AND a full bed cast-on-comb. So that's $260 in parts right there. The carriage for the Easy Knitter is sold as the intarsia carriage for the 1602, another $50+ part.  It also came with some weights and transfer tools which will work with the 1602. Most curiously and surprisingly, it came with an original copy of the 1602 manual. Most mysterious, since the 1602 manual really doesn't apply to the Easy Knitter at all.
The condition of the Easy Knitter bed itself is OK. A few of the flow combs are broken, but that doesn't really prevent it from being used. It's a very simple machine compared to the 1602. I plan on stealing a few needles from it to replace some bent ones on the 1602, but will otherwise leave the Easy Knitter in tact. It's considerably lighter and smaller than the 1602, and will come in handy if I ever get around to teaching another knitting machine class.
Overall I feel like I've won the knitting machine lottery, with a solid $300+ worth of parts and tools compatible with my 1602 for only $25.