I knit this for a friend of mine's baby, and my daughter was kind enough to model it for me. It uses the Little Coffee Bean Cardigan pattern, which is a free Ravelry download. I modified the stripe pattern a bit to give it a sort of stained glass motif.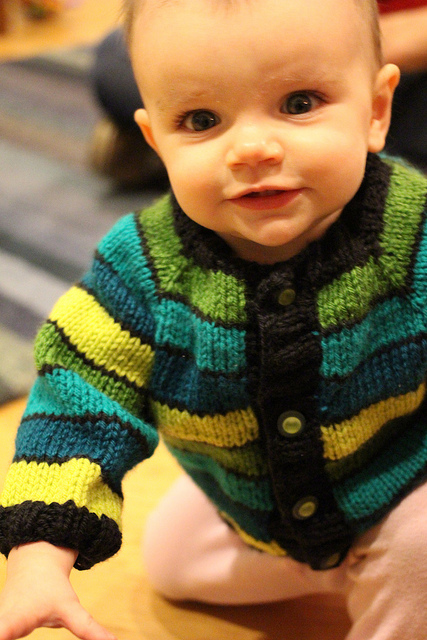 Each color block is 6 rows, with 1 row of black between each color change. It's knit in Caron Simply Soft 100% acrylic yarn, which is a fairly heavy worsted weight. The 6 month size came out a little big on my 9 month old. Total yardage used was roughly 420 yards.
Colored stripes like these are a great way to use up odds and ends from other projects. You can make the stripes thicker or thinner depending on how much you have of each color. Just make sure to plan ahead so you don't run out!
Looking for more details on the exact colors used? Check out the ravelry project page for this sweater.