You guys you guys it's finally here… the moment I've been waiting for… when I can stop "camping out" in a half-finished home and start actually making it into a space for guests and friends and us. I've been doing what I can here and there in the rooms that are finished, but now it's finally time to pull the trigger and order some of the larger items I've been eyeing up. I've been haunting the local thrift store for months and coming up dry, but managed to snag some good end-of-season clearance prices on stuff online and at the big box stores (Target, Lowes, Ikea).
Instead of cleaning my office like I said I would, I put together mood boards for the rooms! Aren't I just the pinnacle of responsibility?
The master bedroom (for lack of a better term, it's the biggest) gets a lot of natural light so I tried to keep the colors a little calmer in there. It's a good sized room and I'd like to eventually get a couple chairs as well. I'm still in the market for some inexpensive bedside tables for that room.. and lighting! It's one of the few rooms that doesn't have any wired-in lights. It also has these super-90s mirrored accordion doors on the closet. I hate the mirror doors but I haven't seen anything else I like much better. Current plan is to hang curtains across the closet opening instead. I haven't decided if those will be the same color as the window curtains, or slightly different.
5 bucks says those mirror doors are still there a year from now because I haven't made up my mind. Also I guess I'll have to get some sort of comforter or duvet cover for this room, it gets pretty cold downstairs if you crank the AC enough to cool the upstairs (thanks, crappy duct layout).
Lazyweb, bring me: lighting, closet door/curtain ideas, bedside table, and comforter ideas for this room!
I've been calling the 2nd downstairs bedroom the "playroom" but it's really more like "a bedroom where we will store all the toys so they don't clutter up my living room. We picked out a fun rug and a daybed which pulls out into a double AND has storage. Anyone who has been to Ikea in the last decade probably recognizes it. Beyond that… I got nothing. We'll need toy storage (though it does have a small closet) and lighting, but it's not a very big room so I'm trying to keep things fairly compact/modular.
Lazyweb, bring me: child-friendly lighting, toy storage
As we move upstairs you will quickly see my design ideas get far less… cohesive. Also I start referring to the rooms by the size of the bed in them. The "Queen room" has an Ikea bed that again many folks will recognize, some Target curtains and not a lot else. I did get a quilt for this room, which looked SUPER CUTE in the store and SUPER CUTE when I washed it and KIND OF MEH when I put it next to the curtains. Urp. Here's a photo from the Kohl's website: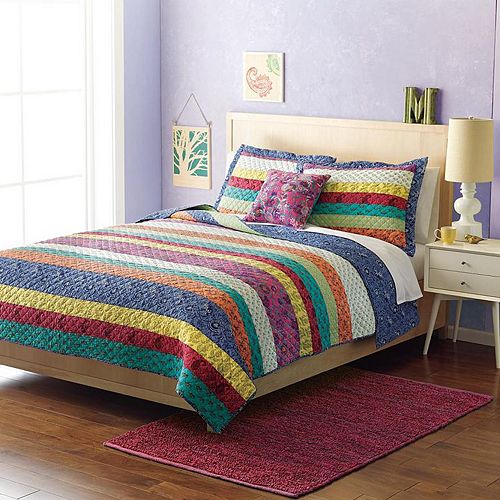 Also while I really like the Ikea bed itself (solid wood! storage!), the white melamine drawer fronts kind of kill the look. Looking at the assembly directions they're really simply constructed. It's basically a board with a groove in the bottom and some holes on the sides. I feel pretty confident I could create new drawer fronts in a nicer wood (and with handles instead of the weird 80s cutouts) some day down the line. Who wants to take another $5 bet on whether I ever actually do that?

The kids' bedroom is actually pretty close to being done. I initially had some crazy plans for bed nooks, and I still might do that someday, but for the time being I'm gonna content myself with just two beds hanging out. There are two twin beds against the wall (visible here), one of which has a pull out trundle underneath it. The other has storage. While we don't need a ton of storage in this room, I'm looking at getting a sideboard to use as a dresser since there's no closet in that room. There's a ceiling light in there but I'll probably put one on the sideboard as well.

Lazyweb, bring me a kid-friendly lamp!

When it comes to the 5th bedroom there is no plan. Only Zuul. This is the room that my husband and I have been staying in during construction, and therefore it has items based on what was necessary for us to sleep. It has an Ikea bed from 2009 which we migrated down from elsewhere, a duvet cover I think is cute, two accent tables I got on impluse because they were cute AND ON SALE, and that's about it. There is no plan for this room, other than to someday replace the bed with something that isn't awful (the one we have is actually the older version of the one pictured, and it's really weirdly low to the ground). I'm not even sure if I want the accent tables in that room, or if I want to abduct them for elsewhere. Also the duvet.

Not shown: beige curtains that were purchased exclusively for their light-blocking properties, and a roller shade that is really difficult to operate.

Lazyweb, how much of this room should I cannibalize for other rooms?

You guys, I am getting kind of tired of photoshopping together all these items of furniture, but there's only one left so I'll saunter on. No, it's not the living room. I have no idea what the plan is for the living room. Right now it has a sectional my husband has owned since before we got together, and since there's a place to park my butt I'm pretty much done for now. No, the last "room" is the landing at the top of the stairs, which we're totally sticking a futon in just like the previous owners did.

The idea is that the kids can all pile onto the futon and play video games while the adults have distinguished conversation in the living room. Just kidding, the kids will pile onto the futon and play video games upstairs because they haven't yet learned to hold their own against the adults playing Super Smash Bros downstairs.

And that, my friends, is the current decorating plan. Clearly some of the rooms are more thought out than others. Also, putting together these mood boards (which is a totally normal thing to do on a Wedesnday night, right?) has made me absolutely hate the carpet upstairs. And downstairs. And all carpet. Can you put an area rug on top of carpet? Is that legit?

Filed under: 1970s Shore Home, DIY and Decor

Tags: decor, shore house