I used to be very anti-wedding. Everything about weddings seemed incredibly stupid and overdone. I was pretty adamant that should I ever get legally married, I would elope.
Then I saw this cake: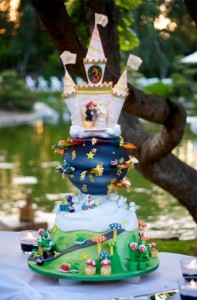 Upon seeing the miracles of icing one can produce with a wedding cake, I revised my statement: I would be willing to get married, but ONLY if I could have the most awesome cake in the world. Though since I was single it was hardly a pressing issue.
Fast forward a few years to now, Chris and I are indeed selecting a wedding cake. And oh my are there cakey options. We went to a cake tasting where we were presented an array of cupcakes in different flavors and icings. They were all incredibly delicious but by the time I left I was done with sugar for a week.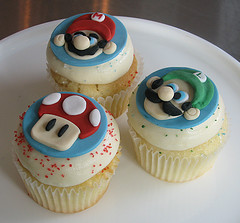 We ended up going with Whipped Bakeshop, a cute bakery in Philly which ironically enough got its start on Etsy.
In a rare fit of restraint we decided not to go the super video game route with our wedding decor, and instead opted for a much more mild "pixel" theme.
I realize Mrs Manners does not approve of "themes" at weddings. She believes the "theme" is marriage. And while I do take the teachings of Mrs Manners to heart, I'm letting this one slide. Mrs Manners will not be attending my wedding. Plus, we're not including any of the tree-killing reply cards she so hates in our invitations. Clearly that's what the custom wedding reservation CMS I've written is for.
Come on now, really, how could you have two web developers get married without one?
Here's the sketch of our cake, I'm pretty excited to see it in person:

Not only does it look awesome, but it will be made of THREE different flavors (each on a different tier): chocolate, lemon, and carrot ginger.