My plan to knit through the Walt Disney World Half Marathon was abruptly canceled by the Florida weather, which saw fit to bring thunderstorms on Saturday morning. Left with a whole lot of yarn and a week of vacation I decided to knit while waiting around Disney World instead.

If there is one thing Disney World is known for, it is waiting. Waiting for rides. Waiting for shows. Waiting for the bus. So. Much. Waiting.
I had already cast on 60 stitches for a scarf knit in the round. The reason I'm knitting in the round is that it's completely mindless for me. There's only knit stitches and I never have to worry about turning the row. The only time I need to look at the work at all is when I'm joining a new color, or if I drop a stitch.
On the way to EPCOT Center (which is, for the record, my favorite Disney park) I pulled out my knitting and got to work. I set up some very loose rules: switch colors for each new wait, try to keep the color distribution somewhat even, and don't stress. It's just a scarf.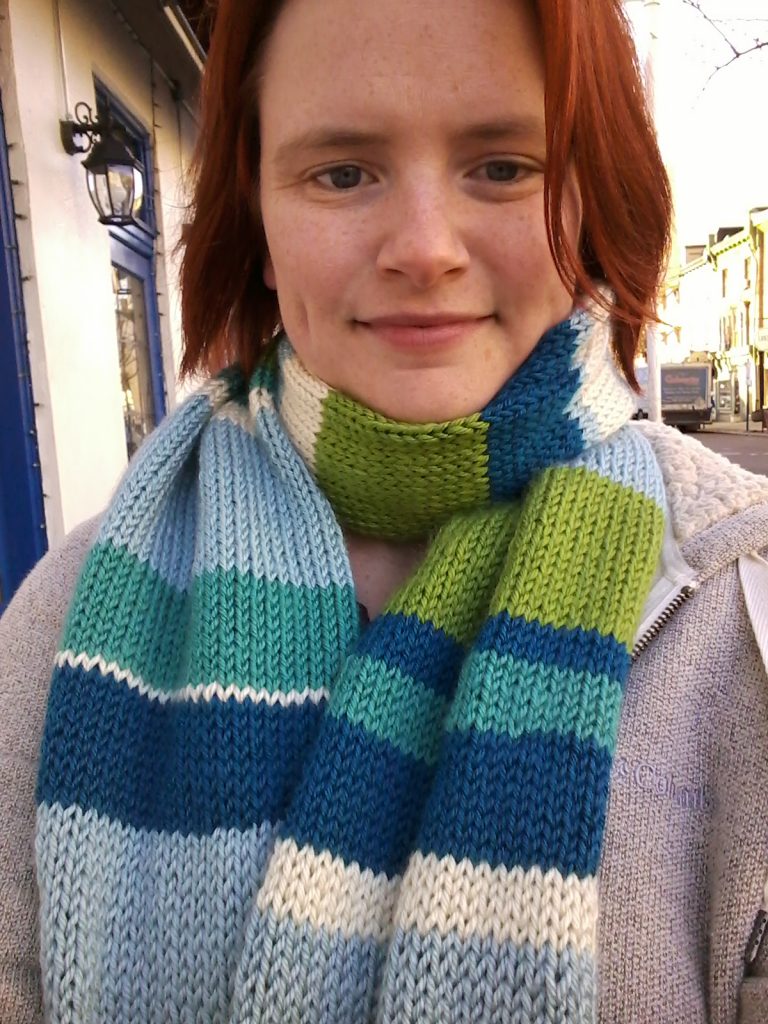 Day one didn't have a lot of waiting. We had fastpasses for most of the rides we cared about, and didn't spend a ton of time at the park because we were still exhausted from traveling. There were also rides we went on which had no waiting at all so I didn't get any knitting done for those. Shucks!
Wait knitting in order from bottom to top:
Riding in the car on the way there (white)
Soarin' (Teal) – A lot of this was watching the "intro video" they show you right before you enter. It was a nice time to get some knitting in!
Living with the Land (Green) – This is honestly one of my favorite rides, because I'm a nerd and I really like the greenhouse tour. The line for this was probably the longest I've ever seen it… maybe 10 minutes? EPCOT was pretty busy due to all the folks in town for the marathon.
Turtle Talk with Crush (Blue) – Since this is a live show that runs every 15 minutes or so I had some nice seated knitting time. My daughter (age 4) got called on by Crush, but forgot her question which was pretty much the most adorable thing ever.
Test Track (Light Blue) – We had a fastpass for this one but it still takes a short while to go through the last part of the queue where you make your car.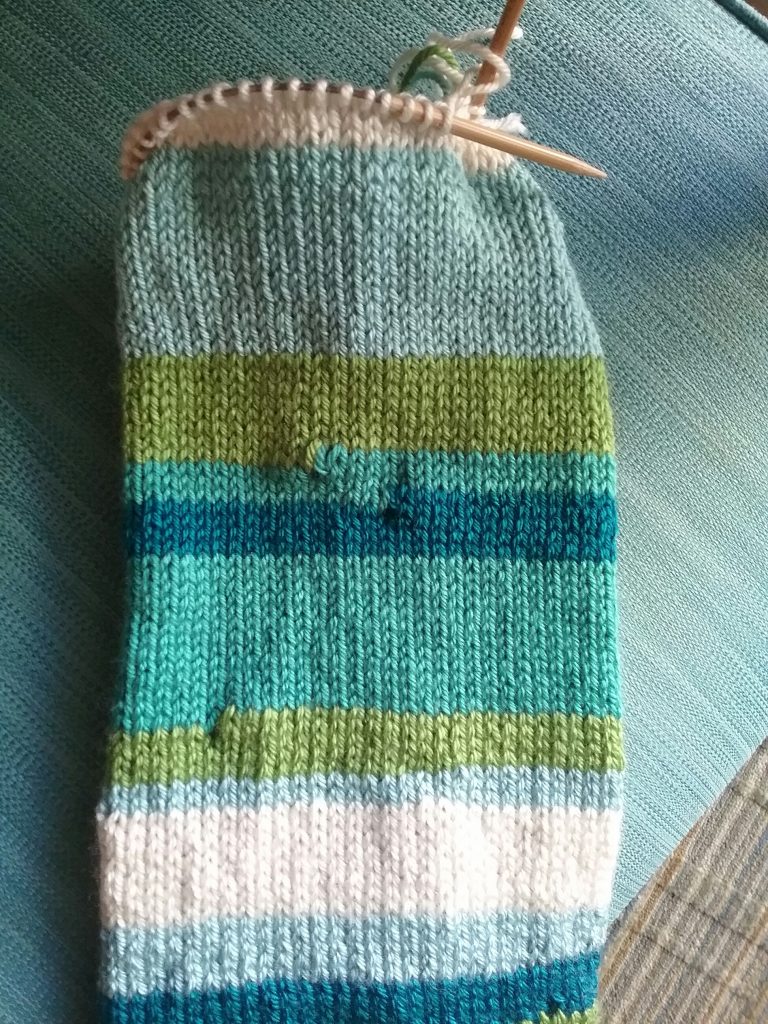 Day 1 Evening / Day 2: Magic Kingdom
We were able to take advantage of "Extra Magic Hours" in the evening of day 1, so I left the kids at the hotel with their dad and set out with some friends to ride the "big rides" at Magic Kingdom. The lines were short enough that I didn't get a ton of knitting in, poor me. Then we came back in the morning to do the kiddie stuff with the little ones.
Magic Kingdom knitting (starting from just after the white stripe):
The Haunted Mansion (Light Blue) – Most of this was done in that first little room you wait in.
Big Thunder Mountain Railroad (Green) – One of my favorite roller coasters. I briefly considered knitting while riding but thought maybe that was a bit too much.
Riding the bus back to the hotel (Teal) – Our longest wait of the evening!
Dumbo (Blue) – Our first wait on Day 2 was for Dumbo (after fastpassing the Barnstormer), and it wasn't even a necessary wait. Inside the queuing area for Dumbo is a really great playground. They give you one of those restaurant buzzers and your kid plays until its your turn to ride. Now if they'd just put one of those things in at Peter Pan…
The Carousel (Teal) – Can I make a confession? At this point I was sort of sad about how little knitting time I was getting in. So I knit during the carousel ride in addition to the <5 minute wait.
Country Bears Jamboree (Green) – We saw this while waiting for a fastpass time on another ride, and oh my god you guys what the… I knit through the whole thing to distract me from the animatronic nightmare before me.
Waiting for the bus (Light Blue) – I have no idea why the bus took so long to show up this time, but we were waiting approximately forever.
Ride home (White) – At least that part was short and sweet.
Day 3: Drinking Around the World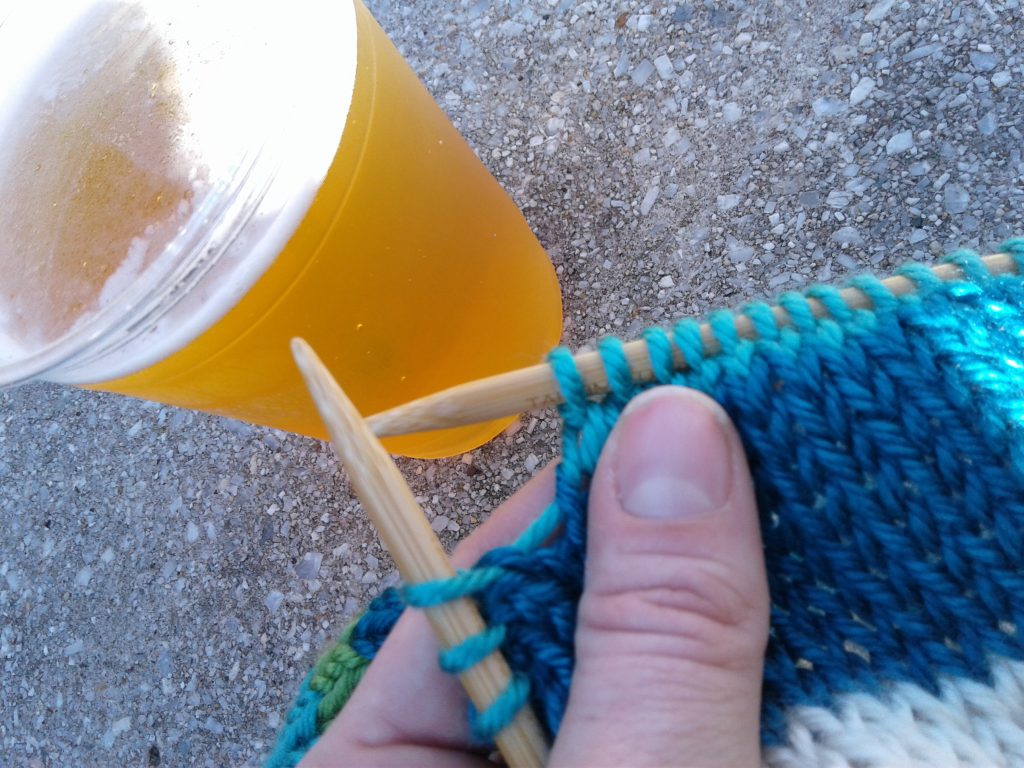 Guys, I'm gonna be honest… at 30something the idea of drinking around the world at EPCOT, a time-honored tradition in which you get an adult beverage at every country in the World Showcase, is not a great one. I didn't even drink that much and I still felt like crap the next day. Nonetheless I did get a lot of knitting done.

Some older folks on the walk spotted me and were very impressed with my ability to knit, walk, and chat all at the same time.
Extra Magic Hours at Magic Kingdom meant not a ton of time for knitting (poor me, not enough time waiting in Disney World), but I still got some stitches in.
By this point I was feeling more confident in my knitting skills, and even managed to get some knitting done while on a roller coaster.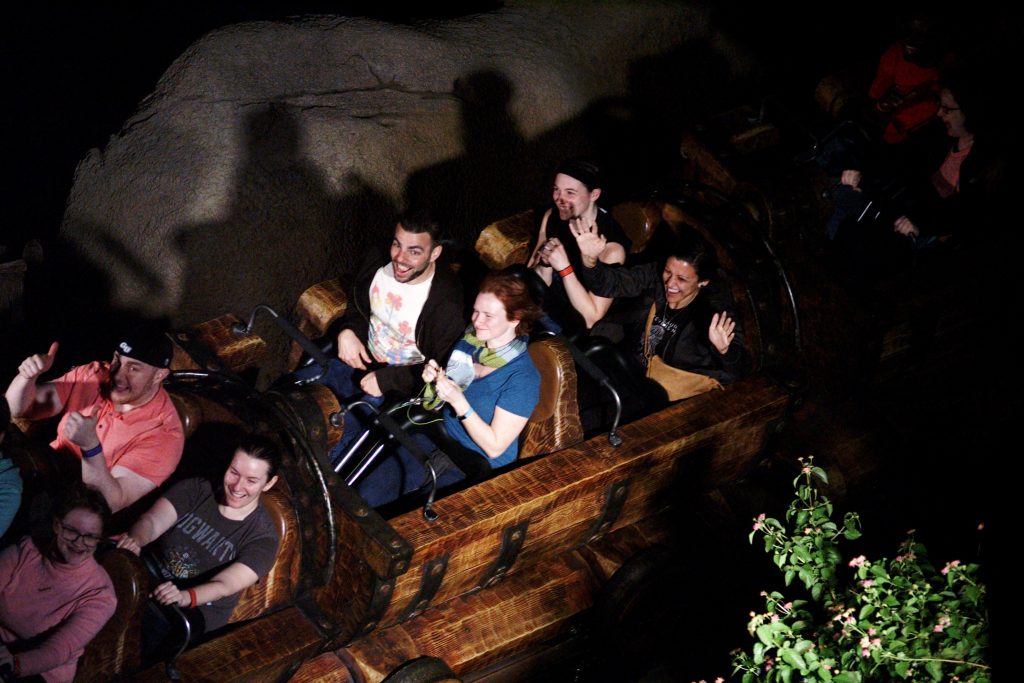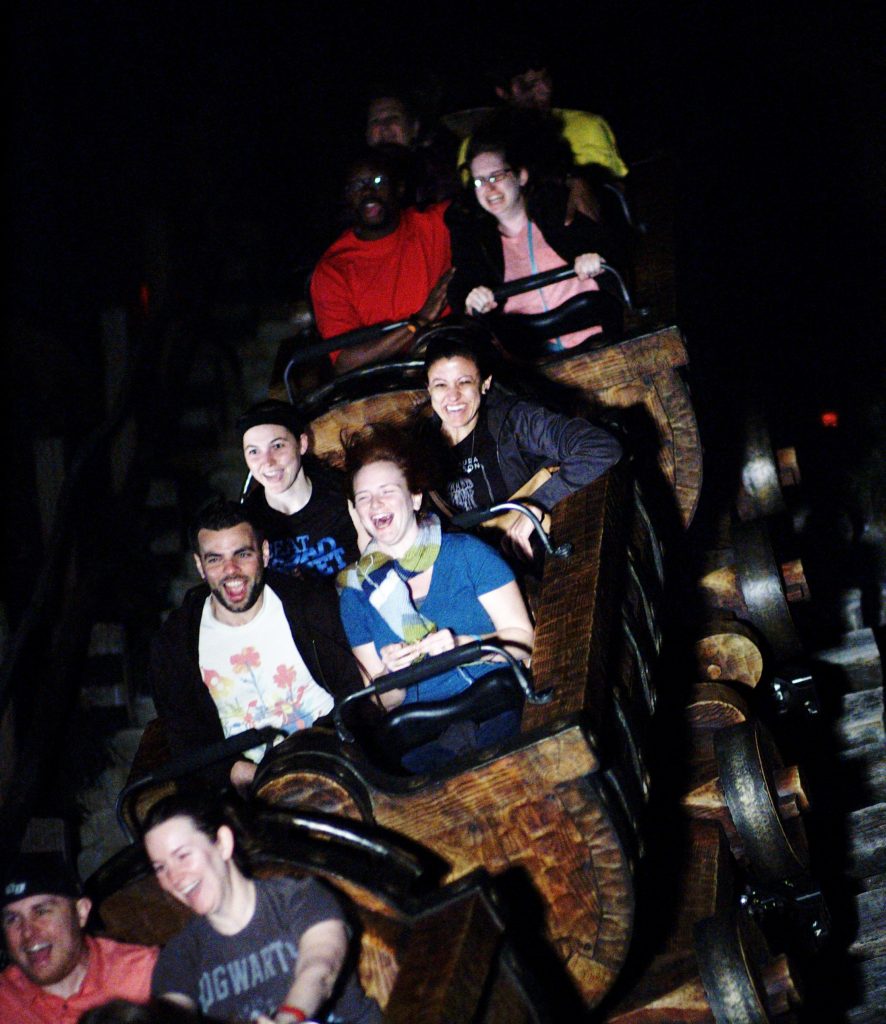 I'm still bummed I didn't get to walk the half-marathon, but at least I got some solid knitting in!