It's been a year since our "kitchenwarming" down the shore, and it's finally starting to feel like a functional place to cook and not just a showroom. It took a while to stock it; to collect all the spices we use regularly, to amass odds and ends like cupcake liners and cutting boards. We've gotten used to how it functions, and started agreeing on where we keep things. I've had some time to think about what I'd change if I were to do it all again (I'm not).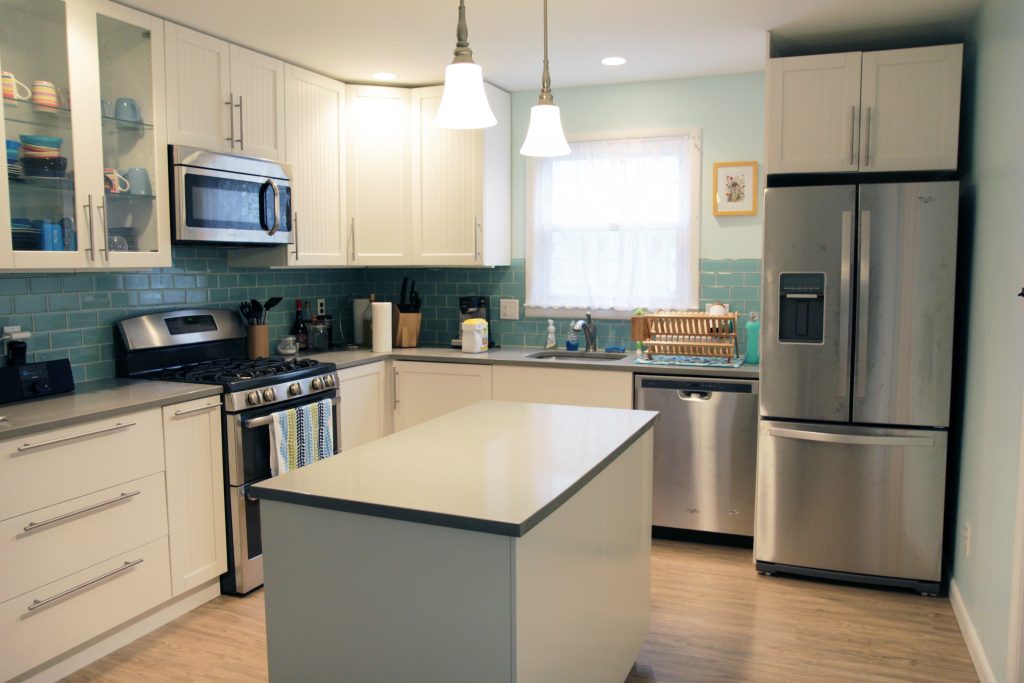 The custom-made cabinet doors
I didn't like the available Ikea doors so we got custom made doors and I painted them myself. They look great, and didn't cost much more than the Ikea doors, but it was a ton of work and honestly not worth it for a kitchen I only see on weekends and the occasional vacation week. Even with a sprayer, priming and painting the doors was a pain. I still think the custom doors are a good way to get a high end look in an otherwise budget kitchen, but I think I could have skipped it for this particular project.
The only really frustrating thing about the custom doors is that you've got no room to change your mind later. On our sink cabinet I had originally planned for a pull out trash drawer. Once everything was in it was very obvious that wouldn't fit under the garbage disposal. I needed to switch from a drawer front to hinged doors, and ended up going with some that don't quite match (and I still haven't gotten around to painting). Granted I could have ordered more doors from the cabinetry company, but that would have taken another few weeks and I wanted to be done.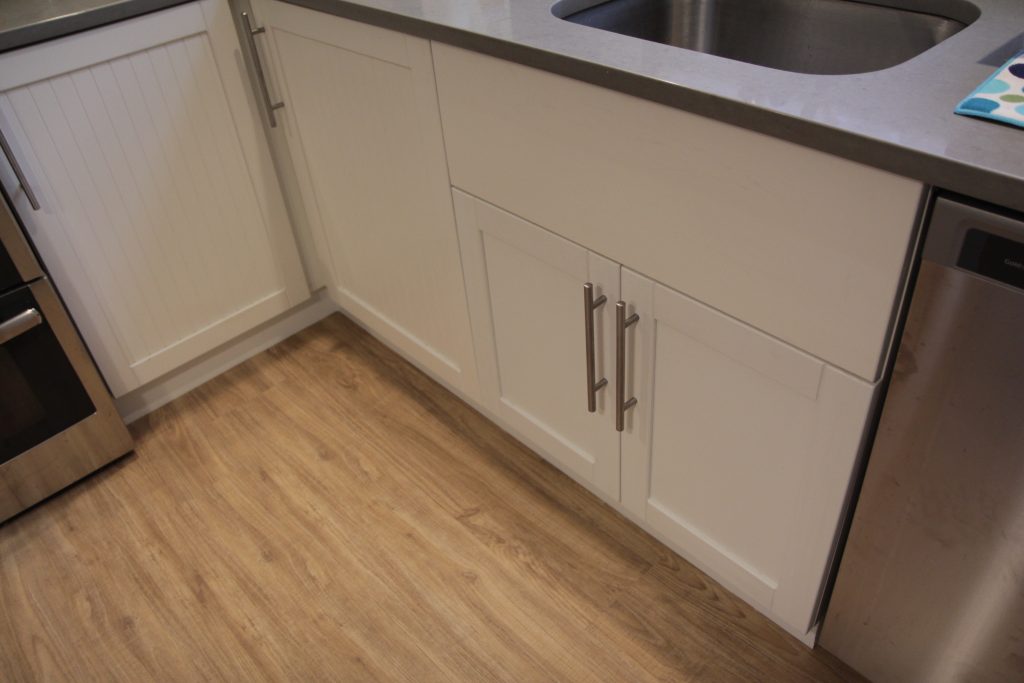 The island
Our kitchen is about 10 foot square and I really didn't think we had room for an island. I taped it out on the floor and took a while to pace around the room trying to get a feel for it. I'm really glad we put it in, the island makes it much easier for two people to work in the kitchen at once.
I think if I did it again though I'd get a freestanding island rather than a built in one. It would be nice to be able to move it out of the way for parties, and we really don't need the massive amount of storage space it provides. Half the drawers in it are still empty.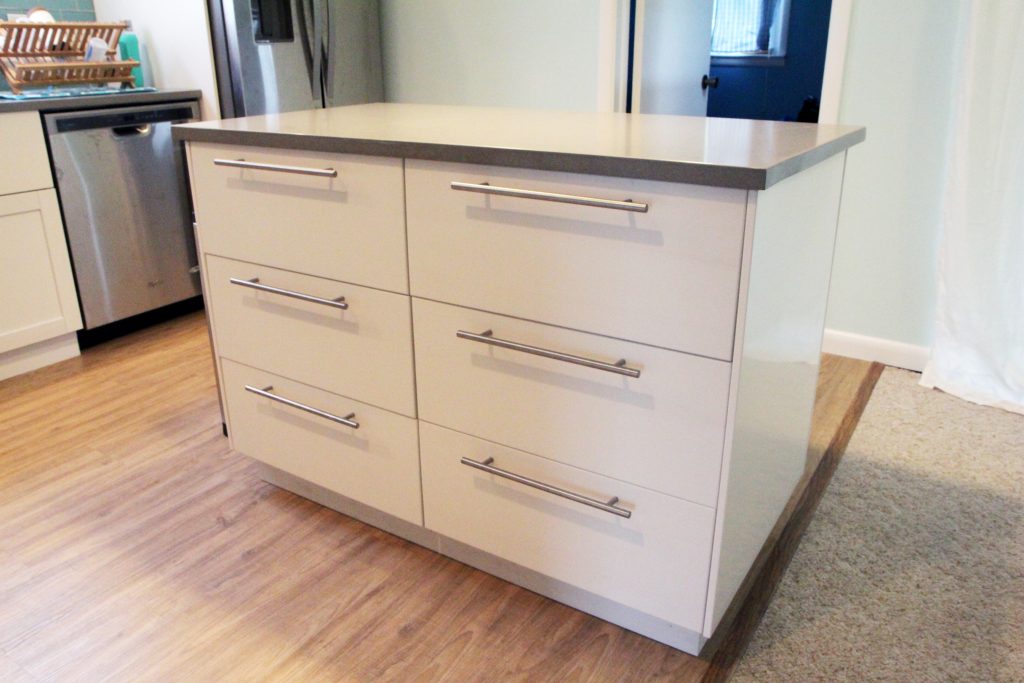 The flooring
We went with luxury vinyl tile and it looks great. It's waterproof, durable, and most people haven't noticed it isn't wood. To be fair, most people are also not looking because they are busy being on vacation. We've gotten many compliments on it. The transition molding I picked up from Lowes isn't a perfect match, but it's enough to make the room feel finished and put together.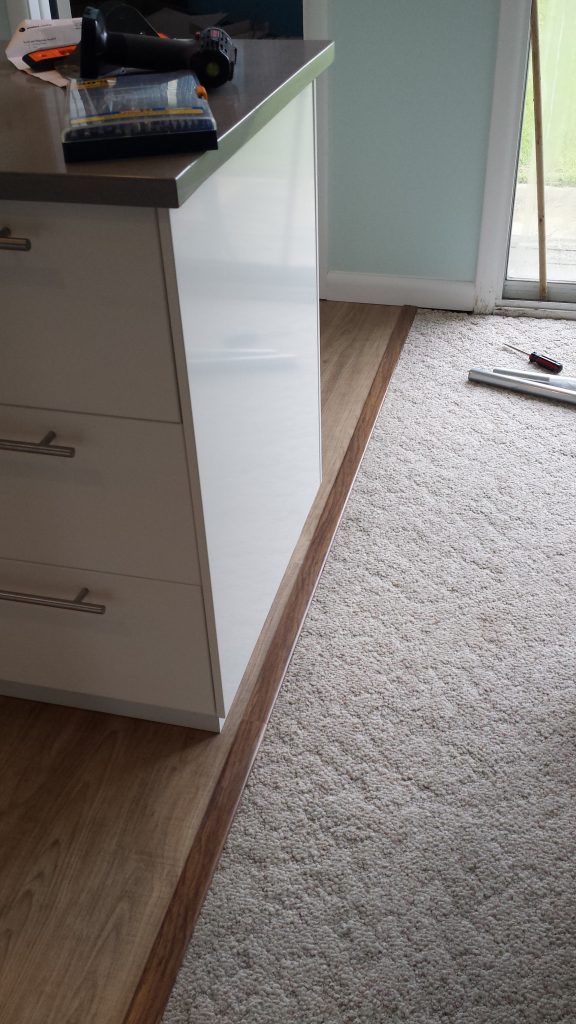 The drawers within drawers
Ikea has this feature where you can put drawers inside of doors or other drawers. We actually have this in our non-Ikea kitchen at home, and inside cabinets with doors it's pretty great. It functions kind of like a pull out shelf for your pot lids or other doodads.
Ikea cabinets function on the idea of elements being a certain number of "units" high. Drawers can take up 1, 2, or 3 units. Our configuration has 2-high exterior drawers with a smaller 1-high drawer inside it.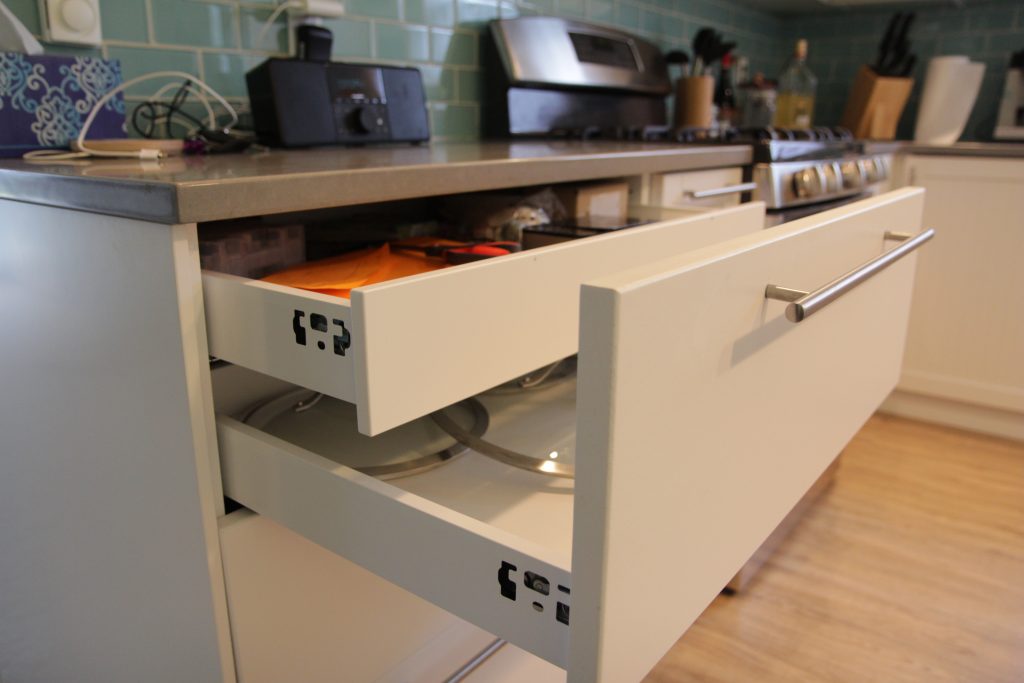 It sounds great in theory but in practice the smaller drawer is practically invisible if it's closed. We've started calling them the 'secret drawers' because guests can't find them.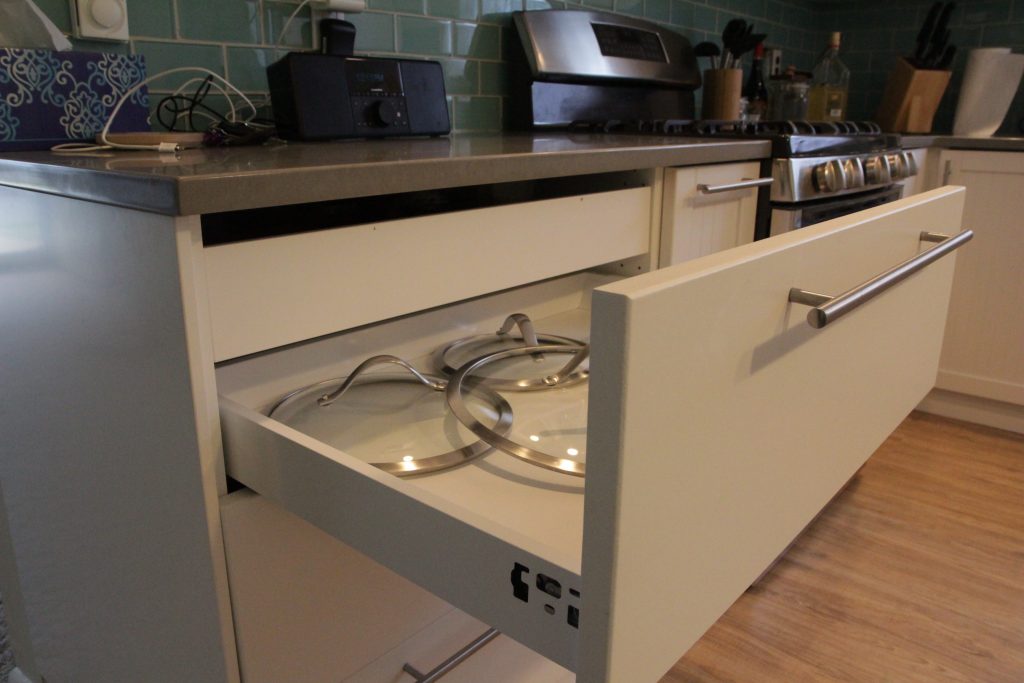 Additionally there are two small spots where the paint has worn away due to the hardware we used to mount the handles. I'm not sure if we were supposed to countersink the screw holes on the back, but we didn't so they stick out a bit and rub against the smaller drawer.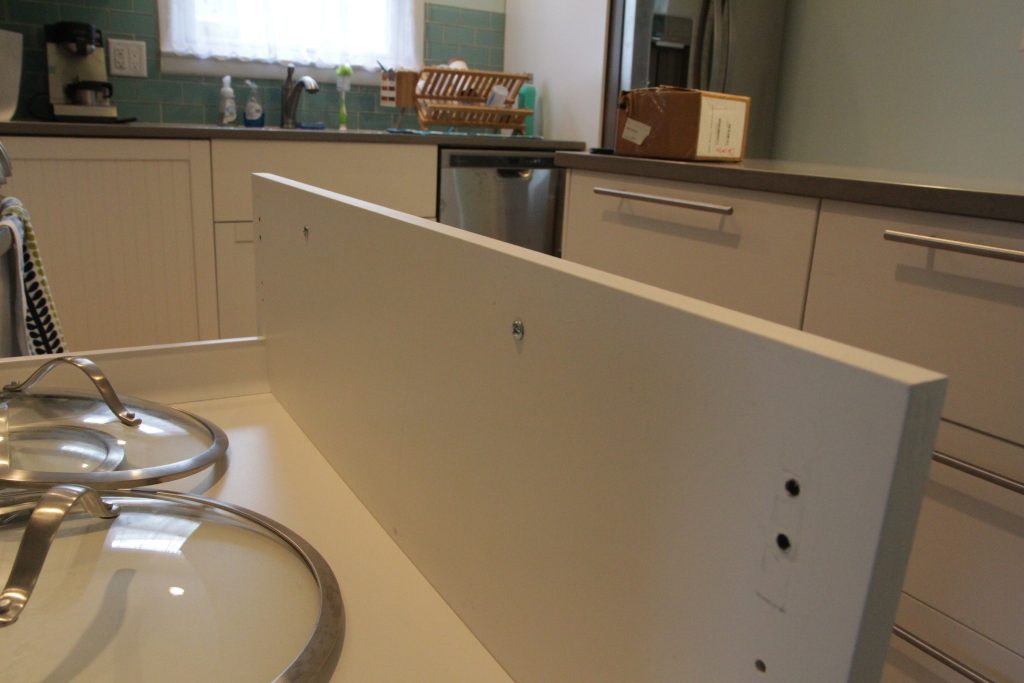 The lighting
For the most part I am very happy with the lighting choices we made in the kitchen, especially having the recessed lighting put in over the counter area. Having a well lit work area is essential. The only thing I don't love is the Ikea ANSULT undercabinet lighting, which is pretty poorly made. If I were to do it again I'd get my cabinet lighting from someone else.
Overall we're still really happy with the kitchen, and I'd use Ikea again. In fact I am using Ikea again in our rental remodel.
The glass subway tile backsplash looks amazing, but it was a huge pain to install and they were expensive. I'm not sure whether I'd do it again, I'd have to really love the project.
I still absolutely love the quartz countertops and while they were out of budget for the rental, I would use them again in a heartbeat.