At long last, the bathroom remodel is complete! Ok, it was actually done a while ago, but we've been too busy enjoying it to do a full writeup.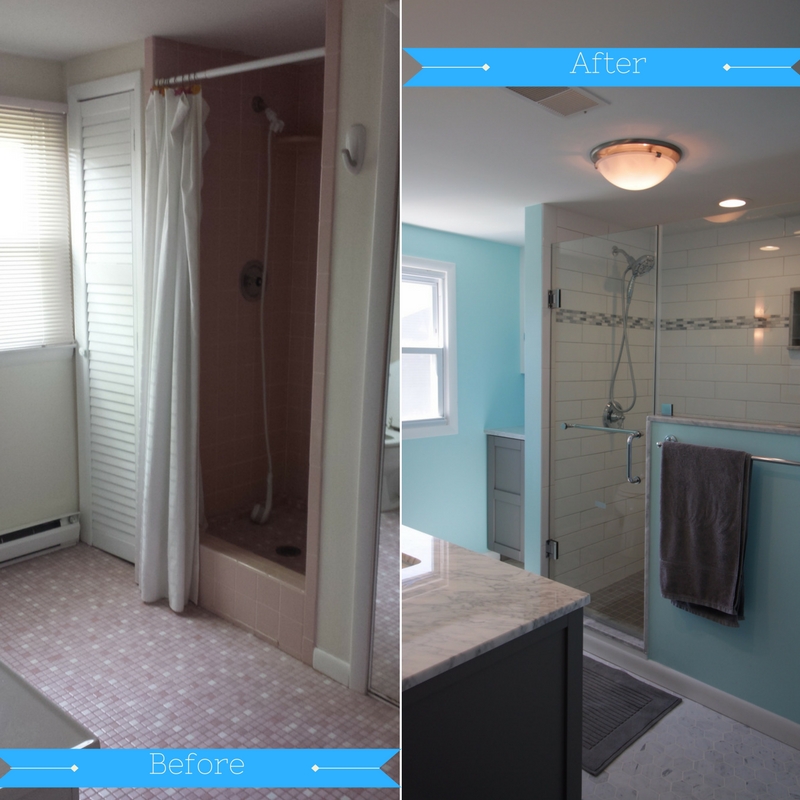 Gone is the pink tile, the awkward (and dangerous!) shower, the useless closet.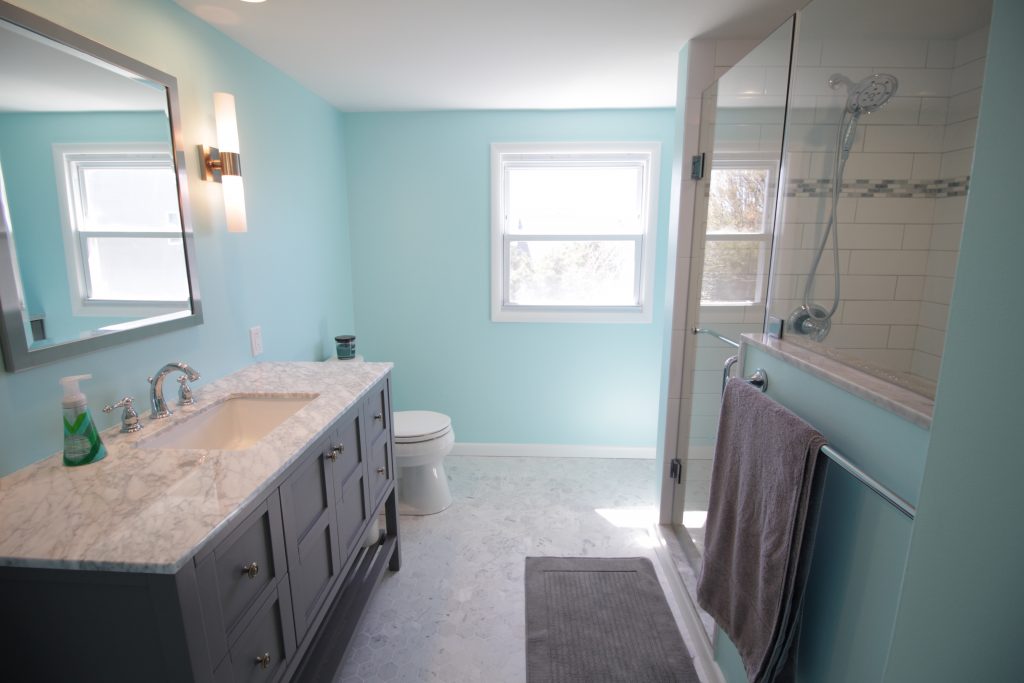 Yes, our bathroom has come a long way from the pink leaky horror show we started with. New flooring, new shower, new toilet, new vanity… pretty much the only thing that stayed the same was the towels and the window.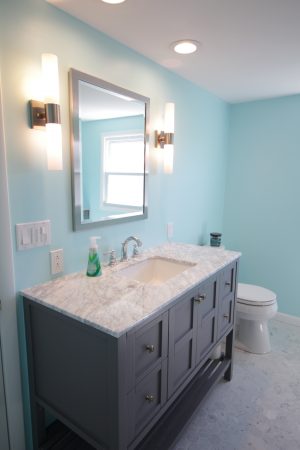 There is now a ton of LIGHT in the bathroom! From all angles! And the sun! It's a downright cheery place now. And the sad awkward medicine cabinet has been replaced with a mirror (we didn't really use it for storage anyway). The vanity has tons of storage space for any doodads left behind.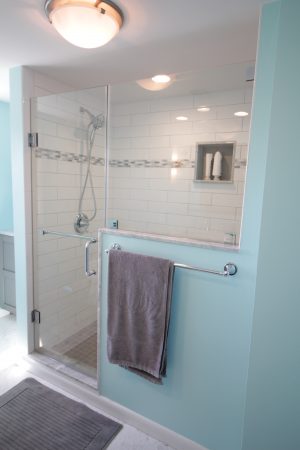 See that light? That light is a bathroom fan. Before we had no bathroom fan and friends, let me tell you, it is LIFE CHANGING. Now this room is all GO FORTH AND POOP. DO NOT BE ASHAMED, THE FAN WILL TAKE THE ODORS AWAY.
Seriously I did not understand how critically necessary bathroom fans were until we had to survive without one. It also does a great job of whisking the damp shower air out of the house, preventing mold and other nastiness.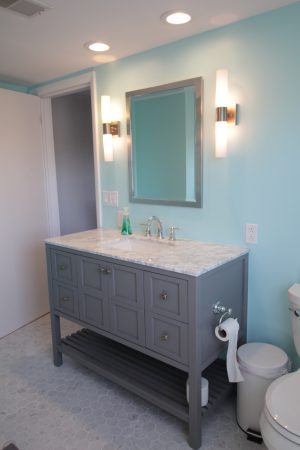 The open shelf on the vanity makes a great place to store surplus toilet paper. And the open-ended toilet paper holder leaves NO EXCUSES for not changing out a fresh roll. It's so easy! The trash can is right there!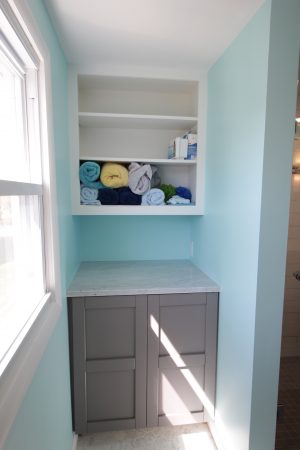 What was once an awkward closet is now a cabinet and open shelves. Guests no longer have to guess which closet has the towels, they're right out in plain sight. Along with the first aid kit.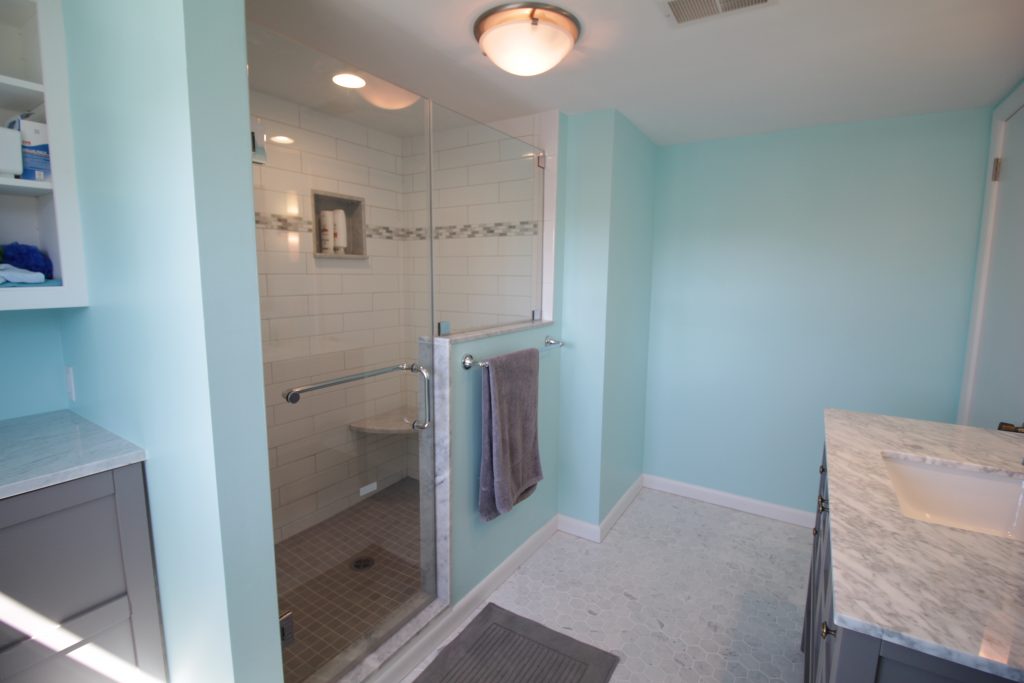 We totally removed closet #2 in favor of a spacious walk-in shower with a seat. Perfect for hosing off the kids after a day at the beach.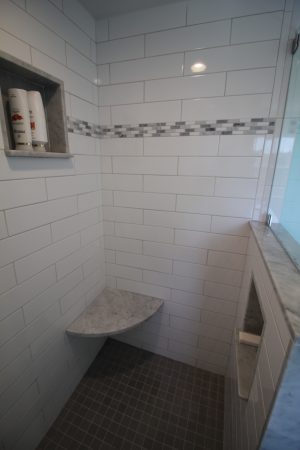 The seat is opposite a detachable shower head. It's supported by a hidden iron bracket that gives it a neat floating effect. Two niches in the shower mean no collection of random bath items on the floor.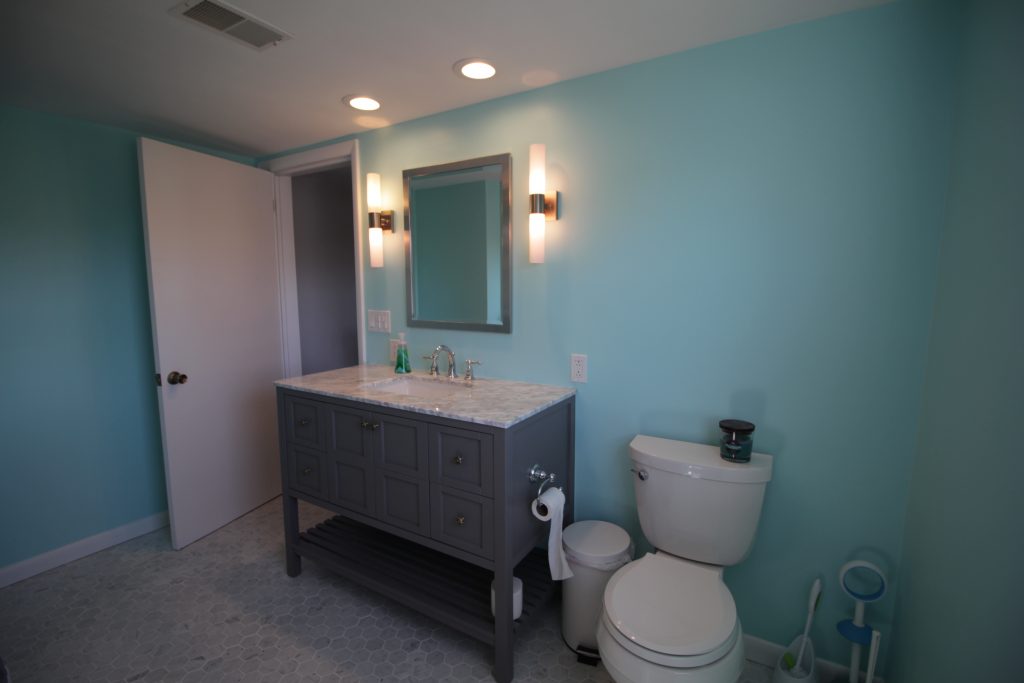 We still need to get some artwork to go over the toilet, it's looking a little bare. But mostly we are very excited to have a shower that does not dump water onto the room below.
Furniture and Finishes:
Vanity – Vinnova Florence 48″ vanity in grey
Toilet – Kohler Cimarron Round Bowl
Shower head –  Delta In2ition 2-in-1 H2Okinetic Shower Head
Toilet paper holder – Moen Madison single post
Faucet – Kohler Kelston wide spread
Fan/Light – Broan 761
Floor tile – 3″ Hexagonal Carerra Marble
Wall sconces – Livex Aero