It turns out I need a plumbing permit for the ice maker line and the new hot water heater. Sigh.
On Tuesday I went down with my parents to paint some ceilings and fill out the permit application in person. The office is open Monday through Friday, 8:30 to 4:30. So of course when I got there at 1:15 it was closed for the day. Apparently in the spring the office closes at 1pm on Tuesdays and Thursdays, presumably so they can process the permits because it seems like a really busy time of year for construction. Every time I'm down during the week I see contractors everywhere. The city offices are small; the police, fire, and administrative offices for the entire island are all one building.
So I got to go back on Wednesday to file the application for real.
Now we wait the 30ish days for the permit to clear. The lady who helped me fill it out said it might go faster since it's such a small project, but that they're pretty backed up.
We've had good luck with contractors so far, but now that it's getting warm our luck is starting to turn.
The first one is weird: the contractor has finished the work but has disappeared and won't invoice me. This isn't a huge deal to me, obviously, but I'd also like him to do one more thing and I'm kind of concerned that he's just up and disappeared. I even searched his name in the obituaries just in case he died in some sort of freak accident. Maybe he's just on vacation?
The second is more frustrating, and partly my fault. We called a painter from Angie's list to do the drywall and painting in the kitchen. A guy came out, gave us a quote, it seemed reasonable, we hired him.
He only communicates by text messages, which led to some miscommunication about which walls should be which colors. So the hallway that was supposed to be beige is now kitchen-blue: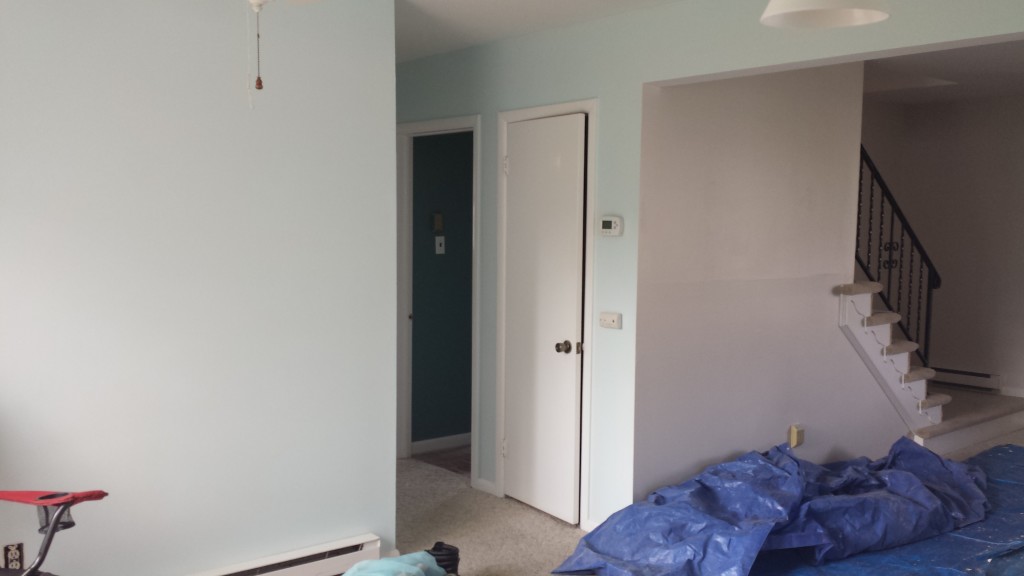 Oh well, not a big deal, I'll totally live with it.
Then when I go down on Tuesday to paint, I notice a bunch of my painting tools are missing. Turns out the painter's helper thought they were his and packed them up. Painter said he'd stop by Wednesday with them. Annoying, but an easy mistake to make and I should have put all my stuff away in the closet before the painters came.
I noticed some issues with the walls. The paper tape between the old and new drywall is pretty visible. There are spots on the ceiling that are completely unpainted. The color on the kitchen walls is thin and you can tell where it was cut in vs rolled. The painter has to come back to do one more pass, but he wants to wait until the cabinets are installed. This doesn't make sense to me as it will be much more difficult to paint once the cabinets are in, and I'm a little concerned about paint getting on the cabinets.
Then he started pitching a fit about the check I left him. My bank is Schwab and they're based out of Reno, NV. He insisted he "couldn't do anything with it" because the bank was in Reno and was generally being a pain in the ass. It's a check. You cash it like any other check. The fact that the bank is in Reno does not matter a damned bit.
I'm not terribly happy about the paint job but increasingly I just want this guy out of my life so my plan now is just to have him finish the work and then fix anything I don't like myself. I can't even leave a negative Angie's list review – after signing the paperwork I noticed that the name of is company isn't one of the ones I called. I must have gotten passed off by someone. My fault for not noticing, but super frustrating.
Lastly I can't find a decent plumber to save my life. One guy flaked on me. One guy came out, looked at the house, and then seemed upset that permits would have to be pulled and never actually gave me an estimate or contacted me again. The Angie's List options for plumbers in the area are pretty slim pickings.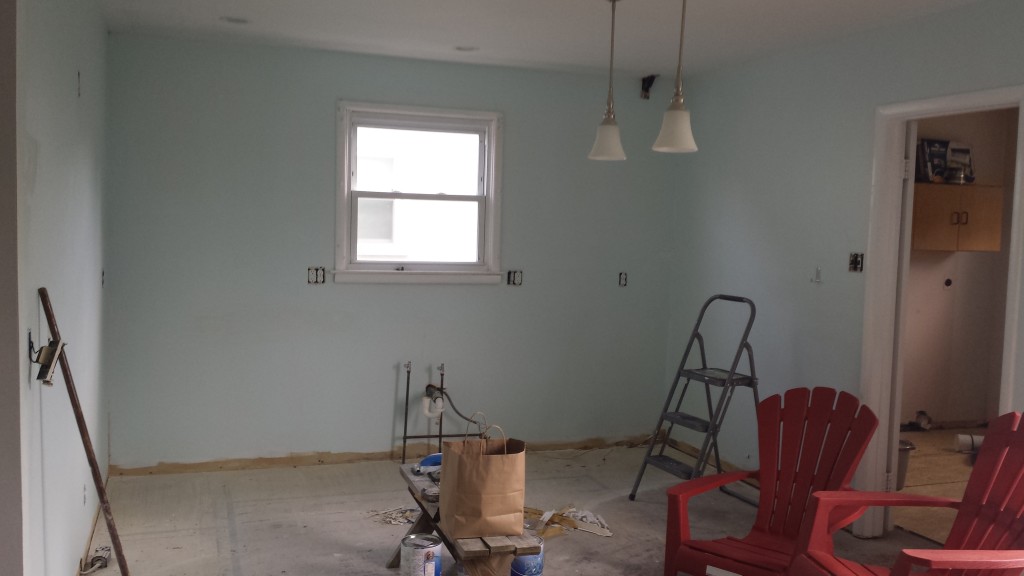 After two months the kitchen finally feels like a blank slate. We're having a big work party weekend this weekend (you should come!) and hopefully the kitchen will start feeling like it's coming together. The Ikea cabinets are awaiting assembly, the flooring is awaiting installation, and soon we should have the rest of our cabinet doors (more on that saga another day).
This weekend's goals are to paint upstairs, lay new plywood over the subfloor (to make a smooth surface for the vinyl), and maybe assemble/install some cabinets. Fingers crossed by the end of the weekend we should have a nice painted bedroom with an honest to god bed in it!
And if not, at least we have a delicious steak dinner planned for Saturday night.