This post is the first in what may or may not become a series about what I do with my CSA veggies each week.
CSA season is upon us! With it comes a variety of vegetables (mostly kale) that I must figure out what to do with before they go bad. On our inaugural pickup the following vegetables were bestowed upon me:
1 head lettuce
1 bunch kale
1 bunch mustard greens
1 bunch green onions (aka scallions)
1 head bok choy
~3 oz  misc salad greens
Oh hey it's salad week! Too bad I never remember to make salad ever. Instead I decided to head the vegetables off at the pass and make something resembling saag. The general recipe I use for saag is thusly:
half pound of bitter greens (kale, mustard greens, etc)
half pound of mild greens (spinach, bok choy, lettucs)
half a stick of butter (1/4 cup)
1 tsp ground cumin
1 green chili pepper, diced
1 clove garlic, minced
1 tbsp ground tumeric
1/2 tsp ground coriander
1/2 tsp salt
In a big skillet or wok, melt butter. Add cumin, chili pepper, garlic, and tumeric. Cook for 2 minutes. Add greens a handful at a time, stirring and allowing the greens to wilt a bit between each handful. Add coriander and salt. Cover and cook for 10 minutes.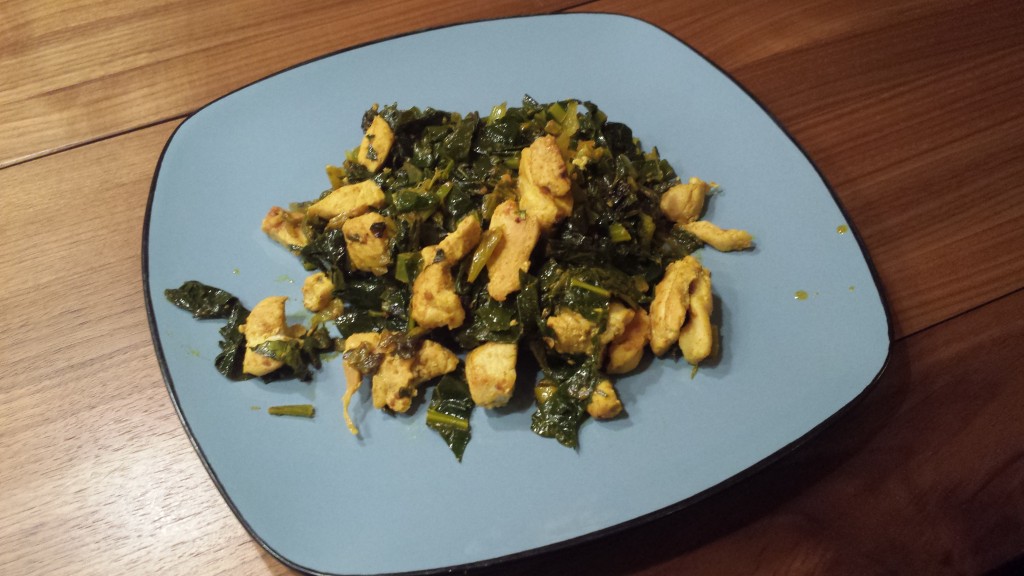 The first time I made this I mixed in some hard boiled egg at the end for protein. The second time I browned some chicken and threw that in there. Both were delicious.
Having made this recipe twice I'm now down to just the green onions left from this week's CSA share. Tomorrow they will join the green peppers languishing in the crisper to become stuffed peppers.